This month I will examine a topic less toxic than global warming and its consequences for Japanese society, the subject of the last two essays. With summer in full swing, let us take a look at the spectacular increase in Western-style restaurants in recent years.
In the past decade, Tokyo has grown into one of the world's major culinary capitals. Last year Michelin published their first-ever Tokyo restaurant guide, which featured twice as many starred restaurants as the Paris one, triggering accusations of commercial expediency on the one hand and, from those not honoured, a lack of "true appreciation of imaginative cooking" on the other.
My friend and I decided to see for ourselves what all the fuss was about. These past six months we have been checking out many Tokyo eating establishments, to get an idea of what is on offer, especially in the newer eateries. Our purpose was not to 'rate' the gastronomic level of each of the places we dined at but to get a feel for the prevailing food culture. Our aim was directed mainly at privately-owned (i.e., non-hotel) restaurants claiming to offer French or Italian cuisine, or an eclectic style of cooking with French/Italian overtones. This is not to slight Asian cooking or indeed any other distinctive cuisine such as modern Australian or evolved British-just to have a reasonably uniform standard of comparison.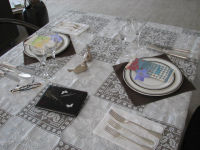 The twenty-odd restaurants we sampled were all up-market, with prices ranging from around Yen 5000 to 15000 for dinner per person, excluding drinks, service and tax.
Our most important finding was that there is no direct correlation between price and taste. The food at one of the priciest addresses (La Rochelle Aoyama), a too brightly lit, cavernous kind of place, proved to be a show of breathtaking virtuosity rather than gastronomic excellence. Too many ingredients and diverse elements competed for attention on the plate, requiring the waiter to repeatedly interrupt our conversation to offer lengthy explanations for each succeeding course. The effect of this kind of culinary and verbal excess--by no means rare in upscale Tokyo establishments--is to leave the diner confused and intimidated. "Instead of harmony, they offer polyphony," remarked my companion. "Worse," I grumbled. "Cacophony."
Alain Ducasse's Ginza restaurant, Beige, atop the Chanel Building, is as chic as they come, yet again, presentation and preciousness overshadow culinary pleasure. The waiter kept a vigil over our every move and even mollycoddled us with a gratuitous lesson in "correct cutlery handling". Argos, in the Hanzomon area, also places high emphasis on style, with some of the stunningly designed tableware actually quite clumsy to use. But the food is delectable. At Paul Bocuse's bistro high up in the hall of the National Art Center Tokyo, in Roppongi, the limited choice of excellent food was upstaged by the drama of the location--see the November 14, 2007 entry in my Habri Diary on this website.
L'Atelier (Joel Robuchon) in the Roppongi Hills complex is in a class of its own. Its seating is arranged along one long counter (which makes conversation among more than two persons problematic), and the diners' attention is perforce drawn to the kitchen support staff dressed in stylish black attending to ancillary tasks in the spot-lit area behind the counter. While the food is superb and the prices tolerable for such quality, I nevertheless came away with the feeling that Robuchon is more concerned with style, atmosphere and presentation than with the diner's comfort.
Some of the medium-priced restaurants manage to do everything right. Aroma Fresca, in Minami-Azabu, with less than ten tables, is a delight, from the unobtrusive, professional waiters to the integrity of each course and the quiet if rather hushed surroundings. Riva degli Etruschi, in a street behind Issey Miyake's store on lower Omotesando, is another recommendable destination for diners looking for well-prepared food served competently in the attractive surroundings of an Etruscan-style villa with a green patio.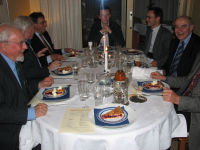 Superior, moderately-priced cuisine can sometimes be found in neighbourhood restaurants tucked away in obscure corners. Labyrinthe is a good example of this type of eatery. Located in Shirokane along a local shopping street near Shinohashi, it serves interesting French food without unsolicited elucidations in a small space that resembles a cosily-cluttered French living room. La Bastide in Mita, mentioned in my Habri Diary of April 20, 2007, is another such an address, as are Les Choux in Azabu Juban and Bitto in Shirokane. In fact there are perhaps hundreds of quality French-Italian bistros to be found around Tokyo's neighbourhoods today, many of which would not be out of place in Paris or Rome.
Overall, we found that the top-priced restaurants excel in showmanship, complex culinary creations and a surfeit of obsequious staff, without necessarily offering superior tasting food. Naturally they tend to attract a moneyed, snobbish clientele as well as expense-account businessmen, but they equally welcome clearly unsophisticated middle-class couples and small groups of women out to have a good time without for once worrying about cost.
For in that sense Japan has become a truly democratic society. Pre-war class barriers have largely fallen away. Hierarchy in the workplace is still firmly in place, with the suits and dresses to match, and at weddings, funerals and official receptions a formal dress code is still scrupulously observed. But when you are at leisure you wear what you like and you go where you please. The rich and not-so-rich mixed without obvious self-consciousness in every restaurant we visited. One might call it the democratization of life's enjoyment. Diners at the highest-priced places are not even better dressed or more elegant. The higher the price, we found, the more jeans and T-shirts.
This then is another aspect of Japan's Shifting Society: the spread of Western cuisine to most layers of the population. And the trend goes far beyond the restaurant scene. Cooking classes thrive, television is replete with food programs and every other housewife these days wants to be competent enough to turn out a mean ratatouille or an inspired pesto Genovese to alternate with the Japanese menu.
Inevitably, there is still a degree of novelty attached to all this Western culinary hype, and the savviest upmarket section of the hospitality trade knows how to tap it to their benefit. While dazzling their clientele with theatricals, they also have succeeded in raising wine to cult status, with prices to match. Wines from all over the world are now readily available, both from local suppliers and at restaurants, and millions of Japanese have developed a sophisticated taste for wine, even to the point where many prefer it to sake to accompany Japanese cuisine. But in many restaurants an attitude of preciousness about wine still prevails. Even generic bottles are offered at five to eight times the store price, and often poured out with affectation. Self-pouring is generally frowned on even in bistros. The waiter or sommelier keeps a constant vigil over your glass, refilling it at the slightest drop in meniscus.
One irritating practice, noticed at almost all the eateries we visited, is the unacceptably stingy measure of wine-by-the-glass, with moreover no choice being available between different wines. And only rarely does a bistro offer wine by the carafe at a reasonable price. This narrow-minded behaviour stands in the way of a natural broadening of the market for wine in restaurants.
But these minor grumbles aside, Tokyo and other major Japanese cities have witnessed, these past two decades, a major shift in culinary culture, a change that has not failed to have some impact on the nation's own distinctive cuisine, notably in the more expensive restaurant sector. Nevertheless, Japanese food continues to be the default choice for most Japanese on a daily basis, with Western-style dining being a welcome, enriching addition to their lifestyle rather than replacing traditional fare.
As in so many other fields, Japan has embraced Western cooking on its own terms and bent it to suit its own taste.