---January---
January 20 - Back from The Netherlands
Spending Christmas and New Year in the country of my birth is an annual ritual, and this time it was no different. I returned on January 7.
Apart from meeting up with friends and family - the main purpose - there are other events as well. This time a visit to the Verzetsmuseum; discovering an authentic Japanese restaurant; and learning about the investigation into the authenticity of a gloomy self-portrait by Vincent van Gogh.
The Verzetsmuseum (Resistance Museum) is dedicated to the lives of the Dutch people in World War II, with an emphasis on those who resisted the Nazi occupation from 1940 to 1945. The visit resulted from an initiative of an old friend, Roelf Rogaar, who had read my booklet about the last winter of the war, "The Monkey Dance, Chronicle of a 12-year old Dutch boy in the Winter of Starvation, 1944/1945," and had recommended it to the museum. They showed interest in my story, and informed me later that they were willing to offer the booklet for sale in their bookstore.
Amsterdam has many "Japanese" restaurants, but most of them are not authentic, serving food that seems heavily adapted to Western taste. But we found one little eatery not far from where my sister Sonja and I grew up in the late 1940s, and I took her there for dinner. The place was so packed with tables and chairs and people that there was hardly any room for the staff to move around. But the food was excellent and, yes, authentic. We were squeezed between two tables, each occupied by Japanese customers - a good sign. As it happened, the name of the restaurant is Hakata Sempachi, Hakata being part of Fukuoka in south-west Japan, where your Habri team lives.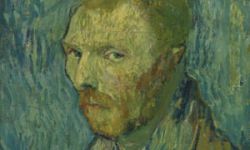 Van Gogh's self-portrait, painted in 1889, the year before his death in July 1890, aged 37, has been in Norway's national collection since 1910, but because of its style and unusual use of colour and painting technique, there have always been doubts about its authenticity. In 2014 the Van Gogh Museum in Amsterdam agreed to investigate it thoroughly, but warned that it might take some time. Well, today the Van Gogh Museum announced that "the portrait has been authenticated as a genuine work by Vincent van Gogh and the only known work painted while he had psychosis."
Van Gogh's stature as a great painter is all the more remarkable considering his short and troubled life. In just over a decade, he created 2,100 works of art, including 860 oil paintings, most of which date from the last two years of his life.
January 25 - Janwillem van de Wetering, Zen student, policeman, crime writer
Back in 1959, the 28-year old Janwillem, a Dutchman studying Zen at the Daitokuji Temple in Kyoto, visited me at my home in Nishinomiya, Japan. He had "escaped" from his Zen training, as he couldn't stand its rigorous discipline and hadn't experienced the satori (sudden enlightenment) he had hoped for. He went back once again, but eventually left, and returned to the Netherlands.
There he unexpectedly received a military draft notice, and when he proclaimed his pacifist principles, he was offered an alternative: service as a part-time policeman, for double the normal draft period. Patrolling Amsterdam's streets at night, he began to mold his encounters with the Amsterdam underworld into crime novels in the daytime. It was the beginning of a series of over a dozen acclaimed Grijpstra and De Gier riveting novels, in which Janwillem cleverly combined Buddhist elements with urban street crime into gripping plots. The books became bestsellers, and some were also published in Japanese translation.
Janwillem liked his police work so much that he stayed for twice the required period. In the early 1970s, I saw him again, at the home of our mutual friend IJsbrand Rogge in Amsterdam. The jovial policeman seemed in his element. But as it turned out, he wasn't done with Zen yet. In 1975, aged 44, he moved to America, where he joined, with his wife, a Zen community in Maine. He continued his writing career there, ending with his last book, Afterzen (1999). He died in Maine in 2008, aged 77.
My story about Janwillem, in much more detail, appeared this month in the Japanese literary magazine Atlas, as usual in Hiromi's translation. It was the 12th time the magazine published my essays, and the editor and some readers declared this story "the best."
---February---
February 1 - Japanese and Dutch companies in the news!
Toward the end of 2019 it was announced that Eneco - a major Dutch firm specializing in wind energy - had agreed to accept the offer of Mitsubishi Corp. and Chubu Electric Power to acquire it for Euro 4.1 billion, beating off rival bids from Shell and another party. Eneco is owned by 44 Dutch municipalities, whose agreement had to be obtained before the sale could be finalized. By the middle of January, a majority of those shareholders had approved the sale, which therefore can go ahead. The deal will give Mitsubishi an 80% stake in Eneco and Chubu 20%.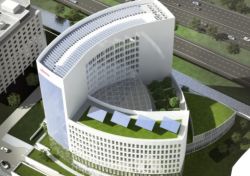 Eneco headquarters in Rotterdam
One of the reasons Eneco's board had recommended the sale is that Mitsubishi had agreed to allow the company to continue its own strategy and identity. Another was Mitsubishi/Chubu's plan to invest a further Euro 1 billion in Eneco's energy projects in wind and solar projects, mostly in the Netherlands but partly also in Germany and Belgium.
The acquisition is expected to help Mitsubishi to fast track its own initiatives in renewable energy by utilising Eneco's strengths as a developer and operator of renewable assets. Mitsubishi plans to transfer part of its more than 400MW of offshore wind capacity in the Netherlands to Eneco.
Mitsubishi's win is a major blow to Shell, which wants to become a major player in alternative energy.
N.B: Multiple city councils, including Rotterdam, have urged Mitsubishi to get in touch with the foundation Japanse Ereschulden (Japan's Debt of Honour), to discuss the several hundred Dutch prisoners of war who were forced to perform work for the company during the Second World War. This was not a condition for the sale, however, according to the news outlet.
*****
Another Dutch company that is currently in the news is ASML, described as "the only company in the world that can supply a cutting-edge machine that is needed to produce the latest, high-speed chips" needed for all technology that will determine our future: 5G, big data, and artificial intelligence (AI).
Why are they in the news? Because ASML, a company headquartered in the Dutch town of Veldhoven (population 45,000) in the province of Noord Brabant, intended to sell its "most-advanced lithography machine for chips" also to China. For that they need an export license, which the Dutch government has so far declined from issuing, due to heavy pressure from President Trump and Secretary of State Pompeo, who have argued that "this extremely sensitive technology" does not belong "in certain places." A Reuters report claims that the White House has shared a classified intelligence report with Dutch prime minister Mark Rutte which "highlighted the potential repercussions of China acquiring ASML's technology."
China, for their part, is asking the Dutch government not to yield to U.S. pressure, as this may have "a negative influence on our bilateral relations."
Reuters said "the stakes are high" because ASML expects to realize billions of euros worth of sales in China through the use of its technology.
All parties are holding their breath. Who will blink first?