September 1: Brexit Consequences
The growing uncertainty over the "deal" that the U.K. is expected to make with Brussels about its decision to leave the European Union has led many companies with European headquarters in London or other British cities to consider moving to the Continent. Among those set to leave the U.K. are Goldman Sachs - moving to Frankfurt and Paris - and Unilever, which will move its headquarters to Rotterdam.
Yesterday, another international giant, Panasonic, announced that it will relocate its European headquarters from Britain to Amsterdam in October. The decision was sparked by fears that - get this! - Japan could treat Britain as a tax haven post-Brexit if London decides to lower its corporate tax rate in an effort to attract business. In that case, Panasonic could face back taxes levied by Tokyo.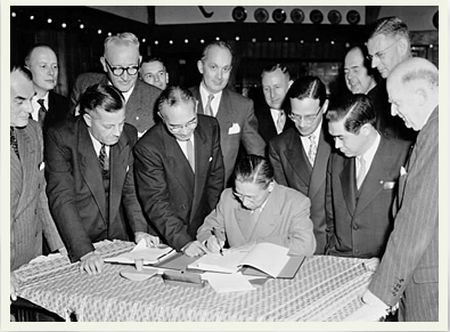 Konosuke Matsushita signs a cooperation agreement with Philips in 1952
(from Panasonic Website)
In a way, though, moving to the Netherlands could be a kind of homecoming, considering Panasonic's early post-war history. Then known as Matsushita Electric, it concluded a crucial technical tie-up with Philips, which, in its 60-year history, had become one of the world's major electric equipment manufacturers.
Our readers may recall an essay written by Hans Brinckmann about Mr. Konosuke Matsushita which first appeared in Hiromi Mizoguchi's translation in Atlas magazine in January 2015. Its English original was published in the January issue of the No.1 Shimbun of the Foreign Correspondents Club of Japan entitled: "His Hidden Acting Talent: A Memorable Evening with Konosuke Matsushita, the founder of Panasonic, in 1967." If you want to (re-)read it, you can find the essay by clicking here:
September 2 - Two losses in August: John Lanting, "King of Farce;" and Sir Hugh Cortazzi, ex-envoy and Japan Society Chairman.
John Lanting
Well after posting Habri's July/August issue, we received word that my old friend and famous Dutch comedian, John Lanting, had died on August 15 in his hometown Breda in the Netherlands.
I first met John in Tokyo on April 30, 1969, in the Star Hill Club of the Tokyo Hilton, at the annual Queen's Birthday dinner dance of the Dutch community in Tokyo. He was the featured entertainer for the evening, and he kicked off with a competent standup routine, followed, in full simian disguise, by a wry, solo performance of Kafka's 'Ape'. We met after the party, and the next day my wife and I invited him to our home and garden in Tokyo. We found we had much in common, despite our wildly different occupations and ways of life.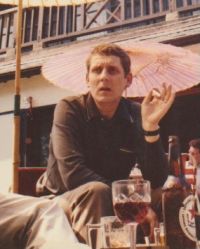 Lanting in 1969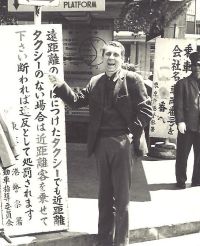 Lanting in 1969
Over the years, we got together whenever we could. The most memorable occasion was in June 1986, when John joined us in our weekend house in Salisbury, Conn. I was running the Amsterdam-Rotterdam Bank in New York at the time and his visit was a welcome diversion. What he told me there became the source of an essay I wrote about John, which - albeit belatedly - I intend to publish shortly.
The last time I met John and his wife Jenneke was in August 2013, when your Habri team was treated to dinner at their Breda home in the Netherlands. An attempt to visit him in July 2017 failed, due to his deteriorating health.
We remember our kind friend John with warmth and affection.
Sir Hugh Cortazzi
On August 14, former British envoy to Japan, passed away in Britain at the age of 94. His diplomatic postings in Japan totalled 11 years, of which the last, from 1980 to 1984, as Ambassador. He had learned Japanese during the war, while serving in the Royal Air Force, and acted as an interpreter when Japanese forces surrendered in Singapore at the end of WW2.
His interest in Japanese history and culture never faded, and after his retirement he served as Chairman of The Japan Society in London, from 1985 to 1995. Since then, he remained active in promoting U.K.-Japan relations, among others by writing reviews of Japan-related books for the bi-monthly Japan Society Review. Its July 2009 issue featured Sir Hugh's favourable review of Hans Brinckmann's book "Showa Japan, The Post-War Golden Age and its Troubled Legacy."
Sir Hugh continued writing reviews, literally until the end of his life. His last review, published on August 8, was not of a book, but of the catalogue for the exhibition "Van Gogh and Japan" held from March to June 2018 at the Van Gogh Museum in Amsterdam!
September 7: More natural disasters in Japan
On July 14, we reported on the deadly rainstorms that recently hit several areas of Japan, with a heavy death toll and destruction of homes and infrastructure.
Yesterday, an Intensity 7 earthquake, the highest on the Japanese scale, hit the northern island of Hokkaido, not far from New Chitose Airport, caused devastating mudslides and major disruptions and a death toll of more than 40. Your Habri team is due to attend - and give presentations at - the 2018 Japan Writers Conference, which this year is to be held in October in the city of Otaru, about 80 km from the quake's epicentre. We have been informed that the Otaru region has not been affected, and that the conference is expected to proceed as scheduled.
This bad news comes on the heels of yet another disaster: typhoon Jebi, the strongest rain storm in Japan in 25 years, made landfall near Osaka on September 5 and left a trail of destruction in the Osaka, Kobe and Kyoto area and 11 fatalities. Kansai International Airport, a major transportation hub for the region, which is located on an artificial island, was partly flooded, and the only bridge connecting it to the mainland was heavily damaged, causing the airport to be closed and over 3000 travellers to be stranded at the airport.
September 15: The Never-Ending aftermath of the 2011 Fukushima disaster
Back in April 2011, we reported in some detail on the catastrophic meltdown of the Fukushima nuclear reactor, after it was hit by a powerful earthquake and tsunami. Reports about the disaster's aftermath, the mass evacuation of local residents, and the degree of radio-active fallout in the area and beyond, continued to dominate the news for some time, as did the finger-pointing at the Tokyo Electric Power Company (Tepco) for having failed to prevent this catastrophe. But eventually, the matter moved to the back pages, and neither Tepco nor the bureaucracy overseeing them have been formally held responsible.
Recent reporting, however, has revealed that the tritium-tainted water, which has been accumulating in hundreds of tanks on the premises of the defunct nuclear reactor, contains other radio-active materials, including a high level of iodine 129 - far above the legal limit.
Tritium is not considered dangerous externally as it is unable to penetrate the skin, but it can be a radiation hazard when inhaled or ingested via food or water.
The government is now under pressure to release the tainted water - 920,000 tons in 680 tanks as of August - into the ocean. But this is facing strong opposition from fishermen and residents.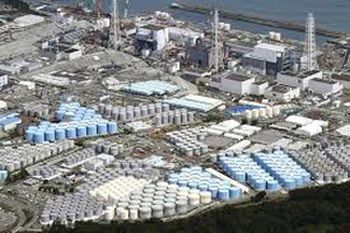 Tanks containing contaminated water at Fukushima nuclear plant
(courtesy abc.net.au)
On top of that, three United Nations human rights experts have criticised the Japanese government, also in August, for exploiting and "deceiving" migrant workers, asylum seekers and homeless people by hiring them to decontaminate Fukushima, without properly informing them of the risks involved. The experts wrote that they were "concerned about the impact that exposure to radiation may have on their physical and mental health."
Japanese government officials have called the statement "regrettable," saying that it was based on one-sided information. It added that the government has been "sincerely dealing" with the matter.
One thing is clear: the problem won't go away anytime soon. The half-life of iodine 129 is 15.7 million years...
---July---
July 7: Founder of Doomsday Cult Executed
On July 6, Shoko Asahara, founder of the Aum Shinrikyo doomsday cult and mastermind behind the deadly March 20, 1995 nerve gas attack in a Tokyo subway station that killed 13 people and left over 6,000 people injured, was executed by hanging, together with six other Aum members. Six other convicted members remain on death row.
The sarin attack shocked Japan and drew world-wide attention at the time. It also damaged the long-held sense of security felt by both Japanese and foreign residents.
The subway attack came on top of a number of crimes inspired or committed by Asahara in the 1980s and '90s. Combined with the subway killings, the total death toll for which Asahara was convicted came to 29. Asahara and twelve other Aum members were sentenced to death by hanging in 2011. Execution was delayed to allow the condemned to appeal.
Asahara, born in 1955 to a poor family in Kumamoto Prefecture in Kyushu, was visually impaired, which limited his educational options. He became an acupuncturist, and in 1984 founded Aum. Frustrated by Japan's growing culture of consumerism and "material success" in the late 1980s, some educated young people were drawn to the cult's promise of spiritual happiness. Asahara's followers believed his claim that he was their "saviour" and the reincarnation of Shiva, the Hindu god of destruction and regeneration. Thousands joined his cult, including doctors, scientists and lawyers from top universities, who worshipped him and took his orders.
Asahara never explained why he ordered the indiscriminate sarin attack on commuters. This frustrated some of his followers, many of whom have left Aum since. Yet, the cult – renamed Aleph in 2000 – is still active, with an estimated 1,450 members. Authorities remain on alert for more attacks.
The executions finally brought closure to some of the victims of the 1995 attack, but many others were left puzzled and frustrated that they never learned the true nature of Asahara's thinking and the motivation behind the cult's horrific crimes.
Media coverage of the hangings and its sordid history was massive. Even the English-language Japan Times devoted the first four pages of its July 7 issue entirely to Asahara, the Aum/Aleph cult, the victims' reactions, the renewed debate over capital punishment and other background information. Below are photos of the four pages.
July 14: Deadly rainstorms wreak havoc in Western Japan
As has been reported worldwide, over the past 10 days many parts of Western Japan have suffered from torrential rain, which caused massive flooding, landslides and destruction of hundreds of houses. As of today, the death toll is well over 200, with many residents still missing, making it Japan's worst natural disaster in decades.
Fukuoka, the Habri team's city, also experienced heavy rain and some flooding, but the damage in Hiroshima, Okayama, Kyoto, Shikoku and several other regions is far worse. Hundreds of thousands of residents had been evacuated to temporary shelters, set up in schools and public buildings. Some areas were flooded to the second-floor level of houses, and residents could be seen on rooftops awaiting rescue. Many cars were swept away by the floods.
Typhoons and earthquakes are part of Japan's DNA, but catastrophic rainfall like this is relatively rare. Combined with the rise in summer daytime temperatures – now often in the range of 35 to 40 degrees in Western Japan, up from 25 to 30 degrees in the 1970s – it is clear evidence of climate change.
There are also serious concerns about the effect of disastrous typhoons and torrential rain on large parts of greater Tokyo, the world's largest urban area with 37 million inhabitants. According to the government, 1.76 million residents live below sea level in areas totaling 116 square km along rivers and near Tokyo Bay. With rising sea levels, many of these people would have to be evacuated if a major typhoon hits the city. A panel has been set up to study how to deal with such an emergency.
July 17: Is the BBC a Religious Broadcaster?
For some time now, the BBC weather channel has been displaying two Christian crosses at the start of their weather report.
As I've always understood the British Broadcasting Corporation to be a secular TV channel, I decided to ask them why their weather channel shows those Christian symbols. I sent them an email enquiry on March 24, to which I received the following reply:
"This is ... to let you know that we've read your comments and will report them overnight to staff across the BBC for them to read too (after removing any personal details). This includes our programme makers, commissioning editors and senior management."
As no further reply followed, and the crosses didn't disappear, I emailed them again on June 28, with the same result.
So, is the BBC a Christian broadcaster after all???
---June---
June 13: Mixed opinions about yesterday's Trump-Kim summit
The historical encounter and tentative agreement between North Korea's 34-year old dictator Kim Jong Un and the 72-year old aspiring dictator Donald Trump has somewhat eased the dreaded possibility of a cataclysmic confrontation between the two nuclear-armed nations, but it's too early to declare it a "deal."
Japan still feels threatened, as the language used in the brief summit statement leaves it unclear whether "complete denuclearization of the Korean Peninsula" means that the U.S. will withdraw its nuclear umbrella from South Korea, which certainly is not in the South's interest and would leave them and Japan more exposed to threats from China than before. Another fear is that the North will only dismantle its long-range missiles, capable of reaching the U.S., while leaving middle-range missiles, aimed at Japan, intact. Trump's unexpected promise to stop America's "war games" – joint military exercises with South Korea – is another cause of worry, as the South had apparently not been consulted on this move.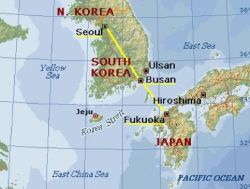 On balance, the summit has left more questions than answers. For now, China is seen as its main beneficiary, as it seems highly unlikely that its greatest fear will come about. That fear was a nuclear-armed, reunited Korea, in alliance with the U.S. and Japan. That scenario now seems off the table.
Why do we choose to comment here on these developments, which are already widely reported in the press? Because your Habri team lives in Fukuoka, less than an hour's flight from the nearest South Korean airport, Busan. What happens in the neighbour's garden cannot but attract one's keen interest.
June 10: How to get rid of all that cash
As we reported in our March 17 2017 Habri Diary post, the Japanese are relying far more on cash than on debit and credit cards, with the amounts of banknotes in circulation as of December 2016 totalling 102.5 trillion yen, close to the equivalent of $1 trillion, about the same as the U.S., which has a population 2.5 times that of Japan.
Earnest efforts are now under way in Japan to promote cashless payments, which so far account for only 20% of all payments, with some businesses only accepting cash. With the approaching 2020 Tokyo Olympics it is considered essential to switch more to cashless payments, to stimulate spending by the rising numbers of foreign visitors.
Two other reasons for reducing the use of cash are (1) the increase in pickpockets and handbag snatchers lured by the abundance of cash carried by people, and (2) the huge cost of maintaining and servicing the ubiquitous ATMs (automatic teller machines) in banks, convenience stores, railway stations and elsewhere, where account holders can withdraw cash on the go.
The Ministry of Economy, Trade and Industry aims to eventually reach a hike in cashless payments to 80% of all account settlements. Not only will this cause substantial savings for financial institutions, but it will also enable both Japanese and foreign visitors to spend without relying on cash.
June 6: The apparent lure of bygone times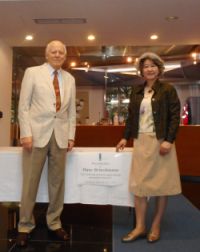 The Habri team –
Hans and Hiromi – at the venue
Yesterday I gave my second presentation at the Dejima Lounge of the Netherlands Embassy in Tokyo about "Life, Work and Society in Japan between 1956 and the mid-1970s," a follow-up on my February 28 talk, which covered the period 1950 (when I first arrived in Japan to work for a Dutch bank in Kobe) to my first home-leave in 1956. The talks – in English – were each attended by a mixed audience of around 50 people from different backgrounds but with a common interest in Japan and were illustrated with my own period photos projected by Power Point.
| | |
| --- | --- |
| | |
What surprised me was the keen interest, especially among the younger generation in their 20s and 30s in the kind of life we lived in that distant past, before computers, television, and mobile phones and – except for the privileged few – air conditioning. It was less a matter of nostalgia than a sense of wonder at the kind of life we then lived, which was indeed a far cry from today's internationally-connected, increasingly IT-dominated lifestyle.
Another sign of that interest was the reaction of our local photo-service shop when we asked them to digitalize some of my old color slides. They were intrigued by the little square carton frames around the slides and asked permission to show some examples on their Facebook page. I agreed.
What I learned from this experience is that "the past" matters, as it provides the younger generation with a valuable perspective for the present – and some ideas and warning signs about the future they are facing.
---May---
May 18: Amsterdam and the negative side of tourism
It was recently reported that the city of Amsterdam is determined to rein in tourism, as its citizens are frustrated and angered by the behaviour of foreign tourists, and by their sheer number. Among the measures taken so far is the introduction of a tourist tax and the banning of Airbnb rentals in the city. The positive consequences of tourism – city revenues, employment, commercial profits – are increasingly overshadowed by trash and noise pollution, heavy drinking on canal boats, drug use and complaints from neighbours about tourist behaviour in Airbnb lodgings. With a population of 800,000, the city expects 18 million tourists this year, more than 20x the city's population and exceeding to the whole population of the Netherlands, which is just over 17 million!
No wonder Amsterdam's citizens have been protesting and demanding measures to keep tourism in check, including by shutting down part of the city's notorious brothels and marijuana cafes and by warning tourists to respect the life of Amsterdam's residents.
As for Japan, the total number of incoming (foreign) tourists to the country as a whole this year is estimated to reach 33 million, or about 1/4 of the country's population of 127 million. The country's policy over the past few years has been to increase annual incoming tourism to at least 40 million by 2020, the year of the Tokyo Olympics. But this too causes serious problems for the residents of the most popular tourist destinations such as Kyoto, Osaka and Tokyo.
---April---
April 2: Netherlands' Agricultural exports 24x Japan's!
Even though it is well-known that the Netherlands has long been a thriving exporter of cheese and tulips, it is perhaps less known that this small country is also a leading exporter of many other agricultural items such as tomatoes, sweet peppers, cucumbers, meat and dairy products, including cheese.
With a land area of 33,900 km2, its size is only 9% of Japan's 364,500 km2, and its population of 17 million a mere 13.4% of Japan's 127 million. Yet its total agricultural exports in 2017 amounted to a staggering 91.7 billion Euro, the equivalent of ¥12 trillion, or about 24 times Japan's agriculture exports of ¥497 billion in the same year.
A big factor in Holland's vastly larger agricultural production is, of course, the "flatness" of the country. Land suitable for agriculture in the Netherlands covers about 55% of its total land area, with 31% of the land area actually being used for growing crops. By comparison, only about 12% of Japan - 73% of which consists of mountains – is arable. Holland has only one small mountain, Vaalserberg, 322 meter high, which we generously share with Germany and Belgium, as it is located at the very point where the three countries come together.
When fishery and forestry products are added, total Japanese agriculture, forestry & fisheries exports came to ¥807 billion in 2017, still well short of the ¥1 trillion target set by the Japanese government for 2019.
Given Holland's fame as the country of tulips, it will come as no surprise that exports of plants, flowers and bulbs are an important element in the country's export trade. Not only that, at 6 billion Euro in 2017, it represents 44% of total world exports of such horticultural products, by far the world's largest!
The only aberration in Holland's horticultural history occurred in the early 17th century, when speculation in tulip bulbs led to the famous tulip mania. At the height of the craze, the bulb of the Semper Augustus tulip shown here - the most expensive bulb at the time - sold for 2500 florins, an amount with a purchasing power of 64,500 euro today, or ¥8,500,000. After the collapse of the mania, the Netherlands never repeated the folly. Holland's flat land has, it seems, eventually produced level-headed people.
April 3: Peace on the Korean Peninsula in sight?
Unexpected developments in the stand-off between North Korea and the United States since the February PyeongChang winter Olympics in South Korea have significantly eased the fear of war on the peninsula, a scenario that would have had disastrous consequences, also for Japan. The peace initiative by South Korea's President Moon, and President Trump's willingness to meet the North's leader Kim Jung Un in May, have opened the door to a possible rapprochement between the countries concerned.
But it's too early to celebrate. On the contrary: the fear of conflict has once again reared its ugly head. The recent appointment of John Bolton – a notorious hawk known for his bellicose and gruff nature – as Trump's national security adviser has injected a new element of uncertainty into the already chaotic Trump White House. Bolton is known for "liking" military conflict, and for not believing in the possibility of a peaceful solution in the North Korean crisis. He is reported to view diplomacy as capitulation.
We can only hope that Trump will stick to his tentative peace agenda and resist any attempt by Bolton to make him change course.
---March---
March 10: Is Renewable Energy gaining ground?
Given that Japan hosted the 1997 climate conference that adopted the Kyoto Protocol, it could be expected to continue championing the cause of fighting climate change. But developments over the past twenty years have shown otherwise. An advisory panel on climate change recently presented a "strongly-worded assessment" to Foreign Minister Taro Kono, in which it advocated the need to lower and eventually phase out Japan's reliance on coal – now at around 26% of total energy supply, and increasing.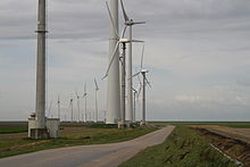 Wind turbines in Holland
It is true that renewables have also seen an uptick in recent years, representing about 15% of total energy production in 2016, and growing slowly. But the Abe government's policy favoring restarting nuclear plants that were shut down after the 2011 Fukushima nuclear disaster has limited the sector's enthusiasm for renewables. Given that renewables already account for 24% of the global energy mix, Kono called "these circumstances lamentable" and pledged to embrace "new ways of thinking." This may place him on a collision course with the powerful nuclear lobby.
Sadly, Holland hasn't done any better. Based on current projections, green schemes will produce 12.4 percent of the Dutch energy supply by 2020, below a 14-percent target agreed with the European Union. It is working hard to increase renewable energy to around 24% by 2030, still short of the 2015 Paris Accord target of 26%.
Both Japan and Holland are rich in potential sources of renewable energy: wind, sun, biomass, hydro and – in the case of Japan – geothermal. In view of the urgent need to counter climate change, we expect both countries to actively support promoting green energy!
March 28: It's cherry blossom season again!
That hanami (cherry blossom viewing) in Japan is a major attraction for locals and tourists alike hardly needs to be emphasized. The top page of this Habri edition already made that colourfully clear.
But what is perhaps less known is the extent to which the hanami season influences waiting times at airports' immigration controls and traffic conditions in areas famed for cherry blossoms. Tokyo's Narita airport reports hour-long lines at border control, and Fukuoka is being plagued by serious traffic jams near its famous blossom spots.
It's not only the influx of cherry-bound tourists, though, that causes the long lines at airports. It's also the arrival of foreign students in time for the start of the new school season that adds to the congestion.
To reduce the queues, Narita will be introducing machines that will scan the faces of Japanese arrivals and collate the scans with their passports. This will speed up the process and open up more booths for foreign visitors and thus accelerate the overall procedure.
International arrivals and departures at Narita hit an all-time high in 2017 with 197,458 flights. The number of foreign travellers who entered Japan through the airport reached 15,514,000, also a new high.
---February---
February 12: Opening of the PyeongChang 2018 Winter Olympics - and the ongoing fear of another Korean War...
Two days ago, the 2018 Winter Olympics opened in PyeongChang, a small town in South Korea, about 450 km from where your Habri team lives, in Fukuoka. The opening ceremony was, as expected, a grand spectacle, lasting over 2 hours, undoubtedly watched by millions around the world.
There is much controversy among many South Koreans over their President's decision to allow the North and South's participating athletes to enter the stadium during the opening ceremony as one unified team, under the Korean unification flag, which depicts the entire Korean Peninsula in blue against a white backdrop. What's more, he also agreed to let the ice hockey teams of North and South compete as one team. The attendance of Kim Jung Un's sister at the ceremony - apparently ignored by US Vice President Mike Pence, who also attended - added further fuel to the controversial arrangements, seen by some as a first step toward a possible thaw in North-South relations (even eventual reunification?), but by others as South Korea's President Moon toadying to his despicable northern colleague.
Today there was a whiff of good news: on his flight back to Washington, Pence indicated that the U.S. government is willing to have direct talks with the North Korean regime "without preconditions."
This doesn't mean that the possibility of another war on the Korean peninsula is now off the table. Pence made it clear that the U.S. and its allies will not stop imposing escalating sanctions on the Kim Jong Un regime until it takes clear steps toward denuclearisation, which Un has repeatedly said is a no-no. But at least there is now an opening for negotiation.
For us here in Fukuoka, war in Korea is an unthinkable scenario. We're only 214 km from Korea's second largest city, Busan - 3 hours by ferry, or less than an hour by air. War in Korea would directly involve the U.S. and also almost certainly Japan - America's closest ally in the region.
We can only hope that sanity will prevail in the end, and that the U.S. and its allies will accept the reality of North Korea as a nuclear power, perhaps with certain restrictions on further development of its arsenal.
---January---
January 16: Japan Netherlands Society Reception - and the History of JNS In Tokyo and Kansai
Your Habri team attended the traditional New Year's party of the Japan-Netherlands Society (JNS) in the Gakushi Kaikan in Tokyo, which as usual was chaired by the Society's President since 2005, Mr. Shigetaka Komori, the CEO of Fuji Film Co. Ltd.
With a current membership of 42 corporate and 286 individual/family members, the Society continues to be an important platform for Japanese-Dutch interaction in terms of both cultural and business relations.
The JNS was founded in 1912, with Count Shigenobu Okuma as its first President. Okuma was born in Saga, Kyushu, in 1838, and at age 15 joined a Dutch studies school. He travelled to Nagasaki where he met Guido Verbeek, a Dutch scholar and missionary, who was to become an important adviser on education to the Meiji government.
In 1882 Okuma founded the Tokyo Semmon Gakko, which later was to become Waseda University, one of Japan's leading universities. In 1889, a year after he was appointed Foreign Minister, he was attacked by an anti-westernisation nationalist with a bomb that blew off his right leg. He resigned after that, but returned to politics in 1896, again as Foreign Minister, and in 1898 was appointed Prime Minister. In 1907, he left politics to become President of Waseda University. Throughout his life, his interest in all things Dutch never wavered, as evidenced by his founding of the JNS in 1912.
In 1914, the JNS published a book entitled "The Netherlands and Japan" with a foreword by Okuma.
After a shutdown during the Second World War, the JNS was re-established in 1954, and today is as active as ever.
The Japan-Netherlands Society of the Kansai was founded in 1959, with Mr. Konosuke Matsushita, the founder of the company now known as Panasonic, as its first President. He remained in that function for 30 years until his death in 1989. I first met Mr. Matsushita in Osaka in 1960, while I was working as Sub-Manager of the Nationale Handelsbank's branch there.
In January 1967, I was among a small number of guests at the Tokyo home of Jan van Gemert, the Japan representative of Philips, the Dutch company with which Panasonic had formed a joint venture in 1952. The guest of honour there was Mr. Matsushita. What happened at that memorable evening is the subject of an essay by Hans Brinckmann entitled "His Hidden Acting Talent: A Memorable Evening with Konosuke Matsushita, the founder of Panasonic, in 1967"
It was first published in Hiromi Mizoguchi's Japanese translation in the January 2015 issue of Atlas magazine. The English original appeared in the January 2018 issue of the No.1 Shimbun, the magazine of the Foreign Correspondents Club of Japan.
To see the article, click here