---November---
November 1: Remembering Ogata Sadako, former U.N. High Commissioner for Refugees
Mrs. Ogata Sadako, who served from 1991 until 2000, as an exemplary High Commissioner for Refugees at the United Nations, passed away on October 22, aged 92.
She was a much-admired and loved person, who - in the condolence message of Prime Minister Abe Shinzo - "was consistently at the front line of humanitarian and development support, always showing compassion to those who were suffering." Before her U.N. service, she was a professor, and later director of the Institute of International Relations at Sophia University in Tokyo. From 2003 to 2012, she served as president of the Japan International Cooperation Agency, JICA, a government agency that coordinates official assistance to developing countries.
Her husband, Ogata Shijuro, who died in 2014 at the age of 86, was a former Deputy Governor of the Bank of Japan, Japan's central bank. Apart from his duties as a central banker, he was also credited with opening up the previously closed Japanese bureaucracy to the Western media, which had long been refused access to government press conferences.
See https://www.ft.com/content/bb814d02-43e3-3560-8a38-3fc4c795d8c1
It was my good fortune to have met both Ogatas from time to time between 1964 and 1974, when I was in charge of an American bank's Japan branches. Sadako was always cheerful. I attended her speech at a luncheon meeting in Tokyo in 1973.
In 1985, when I was chairman of the Institute of Foreign Bankers in New York, representing 240 banks, I asked Shijuro to caution the 26 Japanese banks operating in the U.S. to temper their overly aggressive activities in the U.S. market, which had attracted the ire of the U.S. banking community. He agreed, and this helped me to appeal to Senator Jake Garn, chairman of the Senate Banking Committee, to drop the legislation the Senate was considering to limit all foreign banks' role in the U.S. Shijuro's intervention worked, and the legislation was withdrawn.
Many years later, in October 2008, we met again, first at Sadako's talk at the Foreign Correspondents Club in Tokyo (together with Hiromi), and later that month at a luncheon hosted by the Dutch Foreign Minister at the Netherlands Embassy in Tokyo where she was the guest of honour and the recipient of a major Dutch royal award: Grand Officer of the Order of Orange-Nassau. At the death of my wife, Toyoko, in June 2007, she and her husband sent a beautiful floral tribute to the funeral.
Sadako left a great legacy. I remember her with affection and respect.
---December---
December 13: How Japan contributes to Global Warming
Today's top priority in the world is - or certainly should be - to drastically reduce greenhouse gas emissions to a level where they no longer endanger life on our planet. Without introducing and enforcing without delay stringent measures to cut emissions in every part of the world's economy and lifestyles, global warming will rise to a level where it will soon be out of our control, and massive extinction of humans will occur in "as little as the next 30-50 years" - according to https://www.joboneforhumanity.org/
At the annual United Nations COP25 Climate Change Conference, held this year in Madrid in early December, Japan was severely criticised for its continued heavy use of coal in its energy mix. Koizumi Shinjiro, Japan's Environment Minister, acknowledged the criticism, but said that in view of Japan's virtual absence of natural energy resources, it would take time to move away from coal to more environment-friendly energy sources. For the second time, Japan was nominated by the 1,300 organizations represented at the conference for the cynical "Fossil of the Day" award, given to the country they believe to be hindering progress on reducing greenhouse emissions.
Earlier, on October 3, speaking on the sidelines of an event hosted by environmentalists in Tokyo, Al Gore, former U.S. vice president, founder of The Climate Reality Project in 2006 and high-profile climate change campaigner, said Japan would abdicate environment leadership responsibilities as a top global economy if it sustains its support for coal - both by importing it for its own use, and by financing coal mining in developing countries.
Even before the catastrophic nuclear disaster of March 11, 2011, Japan relied on (imported) coal for about 22% of its energy consumption, with nuclear accounting for approximately the same percentage. After the disaster, all nuclear stations were closed down (with a few subsequently being restarted), and the gap filled by increased coal, natural gas and petroleum imports.
Of course, Japan is not alone in its attachment to coal. President Trump - the world's primary climate change denier - has been actively promoting coal, which in 2017 provided 30% of the country's energy needs.
Clearly, we are a long way from effectively dealing with the looming catastrophic consequences of global warming. But even once all the world's major economies commit themselves without reservation to reducing carbon emissions to a safe, agreed level, it is essential that all the world's citizens are given clear, detailed guidelines on how they can individually contribute to achieving the agreed target. It's not enough for governments to sign up to a treaty. Individuals must know what exactly they should buy/consume/avoid in their daily lives - to save our planet.
---October---
October 1: Consumption Tax Hike hits Japan
Tax hikes are always dangerous for the government in power, and Japan's consumption tax increase from 8 to 10% is no different. Twice postponed, Prime Minister Shinzo Abe's ruling coalition finally decided to take the risk, effective today.
Japan's Gross National Government Debt as of June 30, 2019 was about 238% of its GDP (Gross Domestic Product), by far the highest in the world.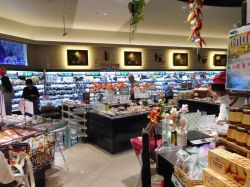 Supermarket in Fukuoka
The consumption hike is expected to bring in an additional Yen 5.6 trillion (US$ 46.7 billion) annually, of which Yen 1.9 trillion will be used to pay down debt, a mere fraction of the outstanding amount. And even at that, it may come at a price: an expected reduction in economic output by 2.7 percent this quarter. Low-income families will be hit worst by the tax increase. To alleviate their burden, most foods and beverages are kept at 8%.
Despite Japan's massive national debt, its currency has been strengthening over time. The Dollar/Yen rate now stands at 107, compared to 114 a year ago. The Euro/Yen rate today is 117, compared to 131 this time last year.
The main reason is that a large part of Japan's government debt is held by Japan's central bank, the Bank of Japan, and Japanese commercial banks. The BOJ's current holdings of Japan Government Bonds (JGBs) amount to Yen 468.4 trillion.
Another, perhaps more fundamental reason for the stability of Japan's currency - and stock market - is the relatively steady course its economy has been following in recent years. Yet, the growing trade war between China and the U.S., Japan's own worsening relationship with South Korea, the Brexit crisis and other factors have caused a slowing of the world economy and fears of a coming recession, which will not leave Japan unscathed. Already, Japan's factory activity has been shrinking in recent months, and Japan's economy may suffer further from the consumer tax hike.
October 16: Typhoon No.19 (Hagibis) Leaves a Path of Destruction
While your Habri team were in Tokyo to attend the annual Japan Writers Conference planned for Saturday 12 and Sunday 13 October, super-typhoon Hagibis (or simply typhoon no. 19 in Japan) hit the Japanese coast and on Saturday hammered Tokyo and ten other prefectures with torrential rain and high winds. The Saturday part of the conference was cancelled, but the skies cleared by Sunday morning, so the second half of the conference could go ahead. (See Attention! for details.)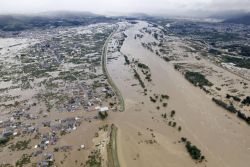 Flooded areas in Nagano Prefecture
(courtesy The Japan Times)
"Hagibis" is a Philippine word meaning "speed" in Tagalog. It did indeed progress with enormous speed, leaving a trail of destruction in its path. It is considered the most devastating typhoon to hit the Kanto area since 1958. The damage in Tokyo was considerable, and in other areas north of Tokyo the destruction was enormous. The embankments of seventy-one rivers broke in 135 different places, resulting in widespread flooding of whole towns and villages, especially in Nagano and Fukushima prefectures. The death toll stands at 80.
Japan has always suffered from devastating natural disasters, from disastrous earthquakes to destructive typhoons, floods, tsunamis and occasional volcanic eruptions. When they occur, they surely affect its economy and social life. But Japan has shown a remarkable acumen in recovering from every disaster. We expect that Hagibis' aftermath will be similarly dealt with, though given the scale of devastation, it may take time and vast investments in housing and infrastructure.
October 22: Enthronement Ceremony for Emperor Naruhito
As reported in our May 1 post, Emperor Akihito abdicated the Chrysanthemum Throne on April 30, followed the next day by the ascension of his son, Naruhito, thus starting the Reiwa Era.
Today the formal Enthronement of the new emperor took place in an elaborate ceremony in the Imperial Palace in Tokyo, following a strict traditional ritual. The event was attended by almost two hundred heads of state and other dignitaries from around the world, among them the King and Queen of the Netherlands.
Below are a few photos taken by your Habri team from the television coverage of the event.

The newly-enthroned Emperor Naruhito

Empress Masako on her throne

Emperor and Empress side-by-side

Empress Masako surrounded by court nobility

Guests attending the ceremony:
Dutch King and Queen on second row
2nd & 3rd from left

Scene outside the palace, after heavy rain
---September---
September 18: Ongoing problem of Fukushima's Contaminated Water
More than eight years after the disastrous Great East Japan Earthquake and the destruction of the Fukushima No. 1 nuclear power plant, two issues still continue to bedevil Tokyo Electric Power Company (Tepco), owners of the power plant:
How to decommission the No. 1 plant with its melted fuel and extremely high radiation levels, making it impossible to approach, and requiring continuous water cooling to prevent a disastrous explosion;
What to do with the over 1.2 million tons of treated water, stored in about 1000 huge tanks, occupying much of the ground of the No. 1 plant.
As we reported on September 15 2018 in Habri Diary, the water stored in the tanks has undergone purification, but still contains tritium, a radioactive substance, though diluted to a level where it is considered safe by government standards. As Tepco says by 2022, it will have no more space to build additional tanks, they considered releasing the contaminated water in the sea. But this met with strong opposition from residents and fishermen.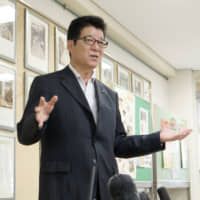 Ichiro Matsui, Osaka Mayor
Now, unexpectedly, the mayor of Osaka, Ichiro Matsui, said that the tritium-tainted water from Fukushima - if proved environmentally safe - could be sent to Osaka and dumped into Osaka Bay. Osaka is at about 800 km distance from Fukushima. Matsui first wants a team of scientific experts to study the matter, but if they conclude that it is safe to do so, the plan may go ahead.
Popular protests in and around Osaka against Matsui's offer have already begun. It is doubtful if the release will go ahead. The dilemma continues.
---July---
July 5 - Japan in Amsterdam.... and a glimpse of Holland's rural beauty
Our next stop was Amsterdam, to meet family and friends. We also visited an unusual exhibition in the Tropical Museum: "Cool Japan." The expression "Cool Japan" normally refers to Japan's pop culture - such as manga, anime, fashion, and "cuteness" like Hello Kitty - that developed in the late 20th century and gained international popularity after 2000. What we didn't know is that in 2010 it was adopted by the Japanese government as a brand for Japan's overall "culture industry."
We therefore expected the Tropical Museum show to focus on the Cool Japan pop culture. What we found instead was a somewhat haphazard display of some aspects of Japanese creativity, without clear explanations or obvious coherence. Very little anime or cute fashions, but also hardly any "traditional" art and crafts. There even was a small area displaying rather Scandinavian-looking baskets and screens designed by a Japanese/Dutch couple working in Holland!
But the museum is well worth a visit for its displays of art from many different countries. Originally it was called the Colonial Museum, displaying the culture of, and trade with, the former Dutch colonial possessions, especially the Netherlands East-Indies, now Indonesia. In 2018, the museum abandoned its geographical layout and focus on the tropics, and now offers exhibitions based on "universal themes that connect people worldwide." Even so, it is still called the Tropical Museum.
I have special memories of the museum and its adjacent Tropical Institute. During my early years in Japan, in the 1950s, my beloved stepfather, Jan de Jong, was for several years the Head of its "Bureau Cursussen en Vertalingen" - the Office of Lecture Courses and Translations. To please me, he even added Japanese to his curriculum, though it was not a "tropical" language! In the photo at left I'm pointing to where his office used to be.
*****
On our last day in Holland, an old friend took us by car to one of Holland's prettiest villages, Broek in Waterland, about 10 km northeast of Amsterdam. It is famous for its gardens and its Protestant church, built in 1628. The village was a popular vacation place for sea captains in the 1600s.
July 13 - The Karuta Donation to the Museum in Omuta
As reported in Habri Diary on January 22, I was finally going to fulfil the last will of my late wife Toyoko to donate the valuable set of karuta that had been in her family for generations to the Karuta Museum in Õmuta, Kyûshû. At the museum's request, we also provided a framed photo of Toyoko, shown at right. It was taken on her graduation from Kinjo University, Nagoya, in 1959, with a degree in Japanese literature.
Prof. Takashi Ebashi, a karuta expert and adviser to the museum, needed time to do research on the set and take photographs of each of the 199 cards. His conclusion: "This is the most beautiful of all the karuta collections I've ever seen!" Karuta is an ancient Japanese card game based on a card game first introduced by Portuguese sailors in the mid-16th century.
I travelled with Hiromi to Omuta, an hour and a half by train from Fukuoka, for the formal donation ceremony, which was filmed by NHK national television. I handed over the set to the museum's director, Shinsuke Kajihara, in the presence of Prof. Ebashi and Ms. Okurano, manager of the Education Section of Omuta city. A reporter from a local newspaper was also on hand.
The ceremony was broadcast on the NHK evening news on Sunday July 14, together with detailed photos of some of the precious, hand-painted cards, estimated by Prof. Ebashi to date back to the late 17th century. Below are some of the shots taken from the NHK's TV report.
Right picture: "Mr. Brinckmann: 'I'm fulfilling my late wife Toyoko's will. I'm sure she would also be very happy today.'"
Left: "A special display of the set will be held in October." Right: Cards closeup.
---June---
June 27 - July 2: London Meetings
On June 27, your Habri team travelled to London to attend the annual dinner of The Japan Society, visit Heidi Potter, the Society's President to gauge her interest in a Brinckmann lecture, and meet with Paul Norbury, President of Renaissance Books, to discuss the republishing of my 2005 book The Magatama Doodle under a new title and with additional text.
The annual dinner on June 28 was a lively affair, attended by some 120 members, held in the Spirit of Rugby Suite of Twickenham Stadium, chosen this time because Japan will be hosting this year's Rugby World Cup. The special guest at the dinner was Eddie Jones, coach of Japan's national team in the past, and now Head Coach of the England national rugby team. In a talk peppered with jokes, he talked about rugby as a sport and his career as a coach.
During our meeting with Heidi Potter she showed potential interest in hosting me for a presentation sometime next year, details still to be worked out. It would be my second Japan Society lecture, after my 2005 talk, "From shibumi to super brands - the lost values of Showa."
In the working lunch with Paul Norbury we got down to the specifics of republishing The Magatama Doodle. We reached a broad agreement on the task ahead, with the publication date planned for the spring of 2020.
While in London, we found time to take a walk along Regents Park, which brought back memories of the house I once briefly owned in 1999. It was located on Kent Terrace, a Crown Estate property adjacent to Regents Park.
After signing the contract and preparing for the move, the real estate agent called to tell me that another client of theirs had offered a much higher price for the house. Their interest was based on the fact that all residents of Crown Estate Properties in this area receive an invitation to the annual garden party hosted by the Queen in Regents Park. As we weren't particularly interested in attending such parties, we agreed to re-sell the property, and pocket the difference. In any case, we weren't very happy with the 5-story layout of the rather narrow house, and we were relieved to let it go, with a nice profit to boot!
---May---
May 1 - The Start of the Reiwa Era
Yesterday, April 30, Emperor Akihito, aged 85, abdicated the Chrysanthemum Throne in favour of his 59-year old eldest son, Naruhito, who ascended the throne today thus starting the Reiwa era.
Both ceremonies took place in the Imperial Palace and attracted nationwide and international attention, not only because it was the first time since 1817 that a Japanese emperor abdicated, but also in view of the impressive ceremonies surrounding the dual occasion.
We have captured some images of both events, taken from Japanese television.
Top left: Abdication ceremony. Top right: Emperor Akihito's last address
Above left: Inauguration of Emperor Naruhito and Empress Masako
Above right: Then-Crown Prince Naruhito and Crown Princess Masako (bottom right) attending the inauguration of King Willem-Alexander of the Netherlands on April 30, 2013.
May 21 - Plans for a shake-up in Japanese "name order"
Foreign Minister Taro Kono was reported today to be planning to require foreign and Japanese English-language media outlets to write "names of Japanese people with the family name first," followed by the given names, as is customary in the Japanese language.
That would be a major shakeup in Japan's long-running practice of following the Western tradition of showing given names first, a practice that harks back to the late 19th century, when Japan opened up the country and modernized under the Meiji Government.
As an example, Japan's Prime Minister Shinzo Abe should be referred to as Abe Shinzo, which would place it in line with the long-established Chinese and Korean practice of putting the family ahead of the given name(s).
The proposed change in name order, if it becomes official policy, will cause major overhauls of computer systems and other repercussions.
In writing my first book, The Magatama Doodle, published in 2005, I followed the traditional Japanese way of stating the family name first. I did so throughout the book, but as I haven't come across a single other English-language publication doing the same, I was about to revert to the Western given-name-first practice in the updated version of the book I'm currently working on when Mr. Kono's announcement came in.
Now what? Perhaps a compromise will be found with the help of the emerging 5G technology, at least for digital publications: leave it up to the reader to select either name order by clicking an appropriate button. That's a joke, of course. So sorry, Mr. Taro Kono - no, I mean Kono Taro, of course. My apologies.
May 28 - Is Japan's role in the World growing in importance?
In recent days, Japanese media have published some opinion pieces focusing on Japan as a potentially positive force in preventing the collapse of the postwar democracy-driven international order. A May 16 article in the Yomiuri Shimbun newspaper and its English edition, The Japan News, stressed Japan's unique position to be a balancing factor between China - its giant neighbour and largest export market - and the United States, its military protector and also a major market, especially for its automobiles and other high-end industrial products.
A similar article dated May 17 in another English-language newspaper, The Japan Times, summed up its message as follows: "Japan's role as a global bridge-builder facilitating dialogue between the international order and revisionist forces has never been more necessary."
And another Japan Times article published today reports that according to a new index of power in the region published by a leading Australian think tank, Japan has become "the quintessential smart power" and the new "leader of the liberal order in Asia."
True, the changes in the global structure over the past few years have been momentous and highly worrisome. First and foremost, there is the withdrawal by the U.S. under Trump from a list of international treaties such as the Trans-Pacific Partnership (TPP), the 2015 Paris Agreement on climate change mitigation, the Iran nuclear deal, UNESCO and several UN-sponsored treaties including, most recently, the UN Arms Trade Treaty led by Japan and the U.K. Then there is the Brexit crisis, and the rise of nationalism and increasing EU-skepticism among some members of the European Union. The weakened position of the leaders of continental Europe's two most powerful nations, Germany and France, doesn't help, either.
Compared to the spectacular rise of China under Xi and his ambitious Belt and Road Initiative, and China's and Russia's troubled relations with both the U.S. and the EU, Japan's position is highly unusual, not to say unique, among the world's leading nations.
Ranking third in the world in terms of national GDP, Japan is not only important in economic terms, but also in many other ways such as the quality of its infrastructure, democratic credentials, healthcare, internal peace and safety, and its non-aggressive posture toward its neighbours. But Prime Minister Shinzo Abe has been called a "nationalist" keen to change the post-war pacifist Constitution to allow Japan to have its own independent military force without having to rely on continued protection by the approx. 50,000 U.S. military personnel stationed in Japan. Popular support for such a change, however, has been slim so far, but that could change.
Without any natural resources of its own, Japan relies heavily on peaceful relations with other nations. Its destiny is therefore highly dependent on diplomacy and its technological prowess. As an island nation, it is also crucial for Japan's future to keep the seas around it open to global navigation and to avoid confrontations with any super power.
The question is how Japan - and Prime Minister Abe in particular - will manage the new role it is expected to play. Unlike the U.S., Russia, France, China and the U.K., Japan is not a permanent member of the UN Security Council. True, its ODA (Overseas Development Assistance) program already started back in 1954, and Japan's contributions to the United Nations have been substantial, including Sadako Ogata's stint as UN High Commissioner for Refugees (UNHCR) from 1991-2000.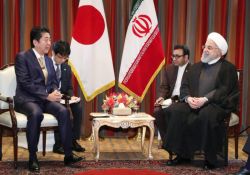 Prime Minister Shinzo Abe and
Iranian President Hassan Rouhani
hold talks in New York in September 2018.
The opportunities for an even greater role in world affairs are clearly there, and are already being used by Japan. For the first time ever, the G20 summit of world leaders will be held in Japan this year, in Osaka, on June 28 and 29, and various ministerial meetings at different dates in eight other Japanese cities, including your Habri team's Fukuoka.
And last year, after Trump withdrew the U.S. from the TPP, Japan took the initiative to save the pact, which is now known as the Comprehensive and Progressive Agreement for Trans-Pacific Partnership (CPTPP). As a result of Japan's leadership, countries such as Colombia, Indonesia, and even the United Kingdom have expressed their desire to join the Agreement.
Abe is also considering visiting Iran in June in a bid to help ease the escalating tension between Washington and Tehran. Abe already met with Iran's President Rouhani in New York in September last year to urge him to uphold the implementation of the nuclear deal despite the U.S. withdrawal.
As the Japan Times' article concluded: "Japan's global moment is upon us!"
---April---
April 1 - Japan's New Era Name Revealed
Today, the Japanese government announced the name of the new era, or gengõ, which will follow the Heisei era and take effect on May 1, the day Crown Prince Naruhito will ascend the chrysanthemum throne, as the successor to his father, Emperor Akihito, who will abdicate on April 30. The new era will be known as Reiwa. The first of its two kanji characters, rei, can be variously interpreted as "order", "decree", "good fortune" or "auspicious." The second character, wa, means "harmony" or "peace."
It is the first time that the gengõ is taken from a Japanese literary source, the Manyõshu, the oldest existing compilation of Japanese poetry, dating from the Nara Period (710-794 A.D.). All previous gengõ, 247 in all, were from Chinese sources. A growing sense of rivalry with China has apparently prompted Prime Minister Shinzo Abe and other key cabinet members to distance themselves from Chinese literature, by choosing this new gengõ from a Japanese source. Ironically, though, the poem from which the name was taken was apparently inspired by a Chinese poem, and of course written in Chinese kanji characters.
But the choice found a warm reception among the Japanese public, and will as is customary be used in parallel with the Gregorian calendar, requiring a massive amount of updating of systems or every kind. Because of that heavy task each time a new emperor is enthroned, there are tentative plans to "eventually" do away with this cumbersome dual system, and keeping the gengõ only as a symbol. But that decision may still be some years (or emperors?) away.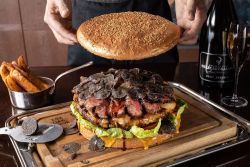 Meanwhile, the new gengõ needs to be celebrated appropriately. The Grand Hyatt Hotel in Tokyo has found a way: they have unveiled a Golden Giant Burger with gold-dusted buns costing ¥100,000 ($908) each, in honor of the upcoming ascension of Crown Prince Naruhito. The 3-kilogram burgers include an array of expensive ingredients such as foie gras and black truffles, and comes with a bottle of wine. It is recommended to share the giant burger - which is 25 cm wide and 15 cm high - among six to eight people.
Well, uh, no thank you. I'll have some Reiwa sushi instead.
April 8: "Kyoto Bus Stop" to be Featured in Kyoto Journal !
In our Habri Diary post of February 3, I reported on my surprisingly well-received lecture about "Kyoto in the 1950s" to a group known as Writers in Kyoto. On that occasion, I also offered for sale my award-winning book entitled The Tomb in the Kyoto Hills and other stories, and I was pleased with the result: it sold like hot cakes.
Well, it turns out that this is not the end of the Kyoto writers' interest in my writings. In the forthcoming issue of the group's beautiful quarterly magazine, the Kyoto Journal, they will include - with my permission - a reprint of Kyoto Bus Stop, one of the stories featured in The Tomb in the Kyoto Hills. Although presented as fiction, it is based on an actual event - a highly unusual meeting that happened in Kyoto between the author and a young French woman, with a mysterious link to a Japanese man.... But no! I'm not going to tell you more. If you want to know why the editor of Kyoto Journal was so fascinated by this tale, I would suggest you get hold of the book. It is available on https://www.amazon.com/Hans-Brinckmann/e/B001JOL1FY?ref=sr_ntt_srch_lnk_fkmrnull_1&qid=1554730101&sr=1-1-fkmrnull;
And, as announced in the January 22 Habri Diary entry, another of my books, Showa Japan - The Post-War Golden Age and its Troubled Legacy, is currently being promoted again by its publishers, Tuttle. It is also available from Amazon.
---March---
March 1 - The Danger of Using the Sidewalks
That's right: the pedestrian sidewalks in the central areas of Japan's major cities are often dangerous for pedestrians to use. The reason? Cyclists use them too, sometimes recklessly, without proper regard for pedestrians.
With few exceptions, cyclists are required by law to follow the same traffic rules as drivers. They must ride on the left-hand side of the vehicle road. Riding dangerously or failing to stop at a stop light carries a maximum penalty of ¥50,000 and/or up to three months in prison. Most importantly, cycling on sidewalks is forbidden.
Yet, bikes pass you left and right when you walk, sometimes at full speed. You have to be careful not to make an unexpected movement like impulsively responding to an attractive display in a shop window - a bike may crash into you.
A recent newspaper article reported that there are about 2,500 collisions between bicycles and pedestrians annually, often caused by young people speeding recklessly or cycling one-handed while using smartphones. In 2017, 299 cyclists - half of them under 24 years old - killed or severely wounded pedestrians.
Only sixty percent of the cyclists were insured. An increasing number of local governments require bicycle riders to take out insurance, but these ordinances do not require penalties for those who fail to get insurance.
What more, no efforts are apparently being made to enforce the law that prohibits cyclists to use sidewalks. Perhaps it is considered too dangerous to require cyclists to share the road with automobiles, with the prospect of even more serious accidents?
Germany believes it has found another way of making cycling safer, not for pedestrians, but for cyclists, who in that country have their own bicycle paths but also mix with vehicular traffic. According to DW, a German publisher and broadcaster, 445 cyclists died in accidents in Germany in 2018, a 15% rise over 2017. A government campaign stresses the importance of wearing helmets while cycling. The campaign uses posters showing women in their underwear and bare-chested men wearing helmets, to counter the public perception that wearing a helmet is "not sexy." The campaign has been met with strong criticism because of the "vulgarity" of the "sexist" posters, but the government certainly has succeeded in attracting attention.
One way or another, cycling clearly is a dangerous way of travelling. Better take the bus.
March 30 - Hope for an Effective Cancer Treatment
Britain's AstraZeneca PLC has agreed to pay Japanese drug maker Daiichi Sankyo Co. up to $6.9 billion for sharing a promising cancer treatment, which they will be developing and commercializing jointly.
AstraZeneca's CEO Pascal Soriot expressed his belief that the new drug "could become a transformative new medicine for the treatment of HER2 positive breast and gastric cancers."
It's too early to know if the medicine will have the hoped-for effect, but the expectations run high.
---February---
February 3: Kyoto in the 1950s .... And Today
Soon after our Tokyo trip, we travelled to Kyoto, where I had been invited by Writers in Kyoto, a group of English-speaking writers, to give a lecture at the Ryukoku University about "Kyoto in the 1950s." My talk was based on my memories and experiences when I was a young man working in the Kobe and Osaka branches of Nationale Handelsbank, a Dutch bank, but spent most weekends in Kyoto. I illustrated my story with my own Power Point pictures of those days.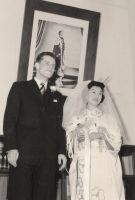 My talk detailed my encounters with a Bohemian crowd there, through a Japanese poet, Shimaoka Kenseki, as well as my visits to Zen temples and historic inns. One day in October 1958 I was unexpectedly introduced - in the form of a mi-ai - by one of my Kyoto friends to a young lady from Nagoya, Toyoko Yoshida, who was about to graduate from university with a degree in Japanese literature. We clicked instantly, and four months later we were married at the Netherlands Consulate-General in Kobe. It was the beginning of a 48 year-long marriage, which sadly ended in 2007, when Toyoko passed away after a long illness.
This story resonated particularly well with my audience, but they were equally fascinated by my other memories of Kyoto and by my "Letter to Kyoto," a long poem I had written earlier in 1958, which I recited during my lecture. It was published twice, first by a Japanese magazine in Shimaoka's translation, the second time in 1970 as the lead article in the first edition of a new literary magazine, Koto (meaning Old Capital).
One of the attendees, an American professor by the name of Stewart Wachs, put the audience's reaction to my talk like this, in an email sent the same night: "Your talk this evening was enthralling and spellbinding. You held everyone's rapt attention throughout; we were all in your capable hands." Incredible, such praise. I can only say that I was glad to have pleased this group of capable writers.
The Writers in Kyoto reported on my talk on their website, click here.
After that, we tried to enjoy today's Kyoto, but that was a different experience altogether. As reported in Habri Diary of November 2018, Kyoto is suffering badly from over-tourism, and we quickly learned why. Tourists everywhere, mostly Chinese. Overcrowding, noise, long queues. The remembered quiet of the city is all but gone.
There was one final memorable occasion, though: the valedictory lecture by Juliet Carpenter, a professor at the Doshisha Women's College of Liberal Arts in Kyoto. Hiromi had befriended her at the latest Japan Writers Conference in Otaru, Hokkaido, and it was through her that I received my invitation from Writers in Kyoto. Juliet is retiring from Doshisha, and she had invited us to attend her final lecture and the tea party that followed. Her lecture, "Reflections on a Life in Translation," was well-attended, and we were happy to be included among her students and colleagues.
Oh, one more activity: promoting my book Showa Japan at Maruzen bookstore in Kyoto, similar to what I did in Tokyo last month, again together with Mr. Kurakami.
February 15: How to Combat Food Waste
Unsold fresh food at supermarkets and other retail establishments is usually discarded as waste, even though most it may still be perfectly fit for consumption.
About three years ago, a non-profit organization, Food Bank Fukuoka, located in your Habri team's city of Fukuoka, began to collect fruit, bread and other food and beverages that are surplus due to overproduction, inventory adjustments and other reasons. The organization then offers the food and drinks free of charge to about 80 institutions, including elementary and junior high schools and welfare facilities in Fukuoka Prefecture. Their initiative has significantly reduced food waste in Fukuoka Prefecture.
Let's all try to avoid throwing away food in our daily lives!
---January---
January 22: This is the year of the Wild Boar - and Don't We Know It!
Since the start of this Year of the Wild Boar, your Habri team has been behaving in full compliance with his spirit: running around. Soon after my return from a two-week visit to Holland over Christmas and the New Year, I travelled to Tokyo with Hiromi to attend the annual New Year's party of the Japan-Netherlands Society at the Gakushi Kaikan. As always, it was a jolly event, though the food was meagre and the wine barely drinkable plonk. But these gettogethers are always a good opportunity for networking.
The next morning we met with Hosei University Prof. Takashi Ebashi, arranged so that I could finally carry out a last wish of my late wife Toyoko: to donate a set of hand-painted karuta cards dating back to the Edo period (1603-1868) to the Karuta Museum in Õmuta, Kyûshû, through Prof. Ebashi. According to Prof. Ebashi, who is an expert on karuta and a senior advisor to the museum, the set, which had been in the possession of Toyoko's family for many generations, is a highly valued karuta set of unique design.
| | |
| --- | --- |
| | |
In the same week we attended a program in the recently-relocated Foreign Correspondents Club of Japan dedicated to the historical Kumano Kodõ, a series of sacred sites and pilgrimage routes through the heart of the Kii Peninsula in Wakayama Prefecture, dating back to the Heian Period (794-1185) and in 2004 registered as a UNESCO World Heritage. The program, which included a talk and slide show and a life performance by a Kumano Taiko Drum group, brought back memories of my own solitary trips in 1958 in the Kumano region as described in my memoir, The Magatama Doodle, One Man's Love Affair with Japan (Global Oriental, 2004).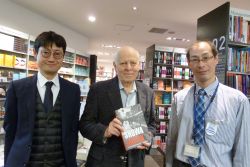 Left to Right:
Yuichi Kurakami, Managing Director, Tuttle Japan;
Brinckmann; Maruzen store manager, Mr. Hakoyama
We also made an appearance together with Mr. Kurakami, Managing Director in Japan of Tuttle Publishers, at the Maruzen Bookstore in the Tokyo Oazo Building, to once again promote my book Showa Japan, the Post-War Golden Age and its Troubled Legacy (Tuttle, 2008).
Other activities included a visit to an exhibition of the 17th century Dutch painter Johannes Vermeer at the Ueno Royal Museum. The show included only 9 Vermeer paintings, the rest being works of other Dutch artists of the same era, but the queues of people lining up for tickets were long, and inside it was hard to catch a glimpse of the paintings. Fortunately, we had secured our tickets beforehand on the internet.
Later we learned that the exhibition had attracted over 680,000 visitors during its 4-months run in Tokyo!