---March---
March 1 - The Danger of Using the Sidewalks
That's right: the pedestrian sidewalks in the central areas of Japan's major cities are often dangerous for pedestrians to use. The reason? Cyclists use them too, sometimes recklessly, without proper regard for pedestrians.
With few exceptions, cyclists are required by law to follow the same traffic rules as drivers. They must ride on the left-hand side of the vehicle road. Riding dangerously or failing to stop at a stop light carries a maximum penalty of ¥50,000 and/or up to three months in prison. Most importantly, cycling on sidewalks is forbidden.
Yet, bikes pass you left and right when you walk, sometimes at full speed. You have to be careful not to make an unexpected movement like impulsively responding to an attractive display in a shop window - a bike may crash into you.
A recent newspaper article reported that there are about 2,500 collisions between bicycles and pedestrians annually, often caused by young people speeding recklessly or cycling one-handed while using smartphones. In 2017, 299 cyclists - half of them under 24 years old - killed or severely wounded pedestrians.
Only sixty percent of the cyclists were insured. An increasing number of local governments require bicycle riders to take out insurance, but these ordinances do not require penalties for those who fail to get insurance.
What more, no efforts are apparently being made to enforce the law that prohibits cyclists to use sidewalks. Perhaps it is considered too dangerous to require cyclists to share the road with automobiles, with the prospect of even more serious accidents?
Germany believes it has found another way of making cycling safer, not for pedestrians, but for cyclists, who in that country have their own bicycle paths but also mix with vehicular traffic. According to DW, a German publisher and broadcaster, 445 cyclists died in accidents in Germany in 2018, a 15% rise over 2017. A government campaign stresses the importance of wearing helmets while cycling. The campaign uses posters showing women in their underwear and bare-chested men wearing helmets, to counter the public perception that wearing a helmet is "not sexy." The campaign has been met with strong criticism because of the "vulgarity" of the "sexist" posters, but the government certainly has succeeded in attracting attention.
One way or another, cycling clearly is a dangerous way of travelling. Better take the bus.
March 30 - Hope for an Effective Cancer Treatment
Britain's AstraZeneca PLC has agreed to pay Japanese drug maker Daiichi Sankyo Co. up to $6.9 billion for sharing a promising cancer treatment, which they will be developing and commercializing jointly.
AstraZeneca's CEO Pascal Soriot expressed his belief that the new drug "could become a transformative new medicine for the treatment of HER2 positive breast and gastric cancers."
It's too early to know if the medicine will have the hoped-for effect, but the expectations run high.
---April---
April 1 - Japan's New Era Name Revealed
Today, the Japanese government announced the name of the new era, or gengõ, which will follow the Heisei era and take effect on May 1, the day Crown Prince Naruhito will ascend the chrysanthemum throne, as the successor to his father, Emperor Akihito, who will abdicate on April 30. The new era will be known as Reiwa. The first of its two kanji characters, rei, can be variously interpreted as "order", "decree", "good fortune" or "auspicious." The second character, wa, means "harmony" or "peace."
It is the first time that the gengõ is taken from a Japanese literary source, the Manyõshu, the oldest existing compilation of Japanese poetry, dating from the Nara Period (710-794 A.D.). All previous gengõ, 247 in all, were from Chinese sources. A growing sense of rivalry with China has apparently prompted Prime Minister Shinzo Abe and other key cabinet members to distance themselves from Chinese literature, by choosing this new gengõ from a Japanese source. Ironically, though, the poem from which the name was taken was apparently inspired by a Chinese poem, and of course written in Chinese kanji characters.
But the choice found a warm reception among the Japanese public, and will as is customary be used in parallel with the Gregorian calendar, requiring a massive amount of updating of systems or every kind. Because of that heavy task each time a new emperor is enthroned, there are tentative plans to "eventually" do away with this cumbersome dual system, and keeping the gengõ only as a symbol. But that decision may still be some years (or emperors?) away.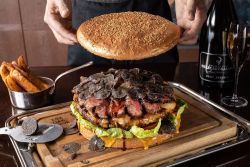 Meanwhile, the new gengõ needs to be celebrated appropriately. The Grand Hyatt Hotel in Tokyo has found a way: they have unveiled a Golden Giant Burger with gold-dusted buns costing ¥100,000 ($908) each, in honor of the upcoming ascension of Crown Prince Naruhito. The 3-kilogram burgers include an array of expensive ingredients such as foie gras and black truffles, and comes with a bottle of wine. It is recommended to share the giant burger - which is 25 cm wide and 15 cm high - among six to eight people.
Well, uh, no thank you. I'll have some Reiwa sushi instead.
April 8: "Kyoto Bus Stop" to be Featured in Kyoto Journal !
In our Habri Diary post of February 3, I reported on my surprisingly well-received lecture about "Kyoto in the 1950s" to a group known as Writers in Kyoto. On that occasion, I also offered for sale my award-winning book entitled The Tomb in the Kyoto Hills and other stories, and I was pleased with the result: it sold like hot cakes.
Well, it turns out that this is not the end of the Kyoto writers' interest in my writings. In the forthcoming issue of the group's beautiful quarterly magazine, the Kyoto Journal, they will include - with my permission - a reprint of Kyoto Bus Stop, one of the stories featured in The Tomb in the Kyoto Hills. Although presented as fiction, it is based on an actual event - a highly unusual meeting that happened in Kyoto between the author and a young French woman, with a mysterious link to a Japanese man.... But no! I'm not going to tell you more. If you want to know why the editor of Kyoto Journal was so fascinated by this tale, I would suggest you get hold of the book. It is available on https://www.amazon.com/Hans-Brinckmann/e/B001JOL1FY?ref=sr_ntt_srch_lnk_fkmrnull_1&qid=1554730101&sr=1-1-fkmrnull;
And, as announced in the January 22 Habri Diary entry, another of my books, Showa Japan - The Post-War Golden Age and its Troubled Legacy, is currently being promoted again by its publishers, Tuttle. It is also available from Amazon.
---February---
February 3: Kyoto in the 1950s .... And Today
Soon after our Tokyo trip, we travelled to Kyoto, where I had been invited by Writers in Kyoto, a group of English-speaking writers, to give a lecture at the Ryukoku University about "Kyoto in the 1950s." My talk was based on my memories and experiences when I was a young man working in the Kobe and Osaka branches of Nationale Handelsbank, a Dutch bank, but spent most weekends in Kyoto. I illustrated my story with my own Power Point pictures of those days.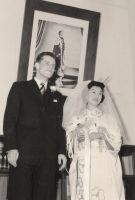 My talk detailed my encounters with a Bohemian crowd there, through a Japanese poet, Shimaoka Kenseki, as well as my visits to Zen temples and historic inns. One day in October 1958 I was unexpectedly introduced - in the form of a mi-ai - by one of my Kyoto friends to a young lady from Nagoya, Toyoko Yoshida, who was about to graduate from university with a degree in Japanese literature. We clicked instantly, and four months later we were married at the Netherlands Consulate-General in Kobe. It was the beginning of a 48 year-long marriage, which sadly ended in 2007, when Toyoko passed away after a long illness.
This story resonated particularly well with my audience, but they were equally fascinated by my other memories of Kyoto and by my "Letter to Kyoto," a long poem I had written earlier in 1958, which I recited during my lecture. It was published twice, first by a Japanese magazine in Shimaoka's translation, the second time in 1970 as the lead article in the first edition of a new literary magazine, Koto (meaning Old Capital).
One of the attendees, an American professor by the name of Stewart Wachs, put the audience's reaction to my talk like this, in an email sent the same night: "Your talk this evening was enthralling and spellbinding. You held everyone's rapt attention throughout; we were all in your capable hands." Incredible, such praise. I can only say that I was glad to have pleased this group of capable writers.
The Writers in Kyoto reported on my talk on their website, click here.
After that, we tried to enjoy today's Kyoto, but that was a different experience altogether. As reported in Habri Diary of November 2018, Kyoto is suffering badly from over-tourism, and we quickly learned why. Tourists everywhere, mostly Chinese. Overcrowding, noise, long queues. The remembered quiet of the city is all but gone.
There was one final memorable occasion, though: the valedictory lecture by Juliet Carpenter, a professor at the Doshisha Women's College of Liberal Arts in Kyoto. Hiromi had befriended her at the latest Japan Writers Conference in Otaru, Hokkaido, and it was through her that I received my invitation from Writers in Kyoto. Juliet is retiring from Doshisha, and she had invited us to attend her final lecture and the tea party that followed. Her lecture, "Reflections on a Life in Translation," was well-attended, and we were happy to be included among her students and colleagues.
Oh, one more activity: promoting my book Showa Japan at Maruzen bookstore in Kyoto, similar to what I did in Tokyo last month, again together with Mr. Kurakami.
February 15: How to Combat Food Waste
Unsold fresh food at supermarkets and other retail establishments is usually discarded as waste, even though most it may still be perfectly fit for consumption.
About three years ago, a non-profit organization, Food Bank Fukuoka, located in your Habri team's city of Fukuoka, began to collect fruit, bread and other food and beverages that are surplus due to overproduction, inventory adjustments and other reasons. The organization then offers the food and drinks free of charge to about 80 institutions, including elementary and junior high schools and welfare facilities in Fukuoka Prefecture. Their initiative has significantly reduced food waste in Fukuoka Prefecture.
Let's all try to avoid throwing away food in our daily lives!
---January---
January 22: This is the year of the Wild Boar - and Don't We Know It!
Since the start of this Year of the Wild Boar, your Habri team has been behaving in full compliance with his spirit: running around. Soon after my return from a two-week visit to Holland over Christmas and the New Year, I travelled to Tokyo with Hiromi to attend the annual New Year's party of the Japan-Netherlands Society at the Gakushi Kaikan. As always, it was a jolly event, though the food was meagre and the wine barely drinkable plonk. But these gettogethers are always a good opportunity for networking.
The next morning we met with Hosei University Prof. Takashi Ebashi, arranged so that I could finally carry out a last wish of my late wife Toyoko: to donate a set of hand-painted karuta cards dating back to the Edo period (1603-1868) to the Karuta Museum in Õmuta, Kyûshû, through Prof. Ebashi. According to Prof. Ebashi, who is an expert on karuta and a senior advisor to the museum, the set, which had been in the possession of Toyoko's family for many generations, is a highly valued karuta set of unique design.
| | |
| --- | --- |
| | |
In the same week we attended a program in the recently-relocated Foreign Correspondents Club of Japan dedicated to the historical Kumano Kodõ, a series of sacred sites and pilgrimage routes through the heart of the Kii Peninsula in Wakayama Prefecture, dating back to the Heian Period (794-1185) and in 2004 registered as a UNESCO World Heritage. The program, which included a talk and slide show and a life performance by a Kumano Taiko Drum group, brought back memories of my own solitary trips in 1958 in the Kumano region as described in my memoir, The Magatama Doodle, One Man's Love Affair with Japan (Global Oriental, 2004).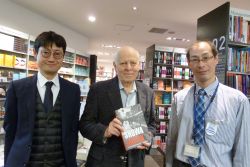 Left to Right:
Yuichi Kurakami, Managing Director, Tuttle Japan;
Brinckmann; Maruzen store manager, Mr. Hakoyama
We also made an appearance together with Mr. Kurakami, Managing Director in Japan of Tuttle Publishers, at the Maruzen Bookstore in the Tokyo Oazo Building, to once again promote my book Showa Japan, the Post-War Golden Age and its Troubled Legacy (Tuttle, 2008).
Other activities included a visit to an exhibition of the 17th century Dutch painter Johannes Vermeer at the Ueno Royal Museum. The show included only 9 Vermeer paintings, the rest being works of other Dutch artists of the same era, but the queues of people lining up for tickets were long, and inside it was hard to catch a glimpse of the paintings. Fortunately, we had secured our tickets beforehand on the internet.
Later we learned that the exhibition had attracted over 680,000 visitors during its 4-months run in Tokyo!