---November---
November 17: My First Computer – 1981
Today's Japan News reported that "an original Apple computer, hand-built by company founders Steve Jobs and Steve Wozniak 45 years ago, sold for $400,000 at auction in the United States on Nov. 9." – see the scan of the article.
Forty-five years ago, that's 1976. Well, 5 years later, I started working on my first computer, at my office in New York, where I founded in 1981– as Executive Vice President and General Manager – the first overseas branch of the Dutch AMRO Bank. The IBM computer 5150 – depicted below – was acquired by Karl Burghart, our Operations Division manager, and he provided instructions to me how to use it.
A small step in the start of the computer age. Just included here as an anecdote.
November 21: Harnessing the sea's power for clean energy
A strange coincidence. I was recently wondering what possible additional sources of clean energy could be found or developed to help solve the ongoing climate crisis. My thoughts turned to the sea, remembering the ebb and flow of the sea waters near the Dutch town where I grew up – the ebb when the tide drains away from the shore, and the flow the incoming phase, when the water rises again. I thought that if we could somehow capture that movement...
And then, this morning, I read an article in the Washington Post newspaper entitled "Harnessing the sea's power." This is a quote from that article:
"It doesn't matter if the sun shines or the wind blows. The tides turn. You can set your watch to them. The trick is how to generate cost-effective, renewable electricity from that limitless, ceaseless motion. They-re working on the problem here on Scotland's Orkney Islands.... It's all hopeful and ingenious – and the world certainly needs some hope as we wait to see if there's enough ambition to avoid potentially catastrophic warming now....
[After] two decades of trial and error, the sector's backers say marine energy is getting there...within the decade....
Gareth Davies, chair of Aquatera Group in Orkney, told [British Prime Minister] Johnson that 25 percent of Britain's total electricity could be supplied by northern Scotland's abundant wind, tide and solar resources, if they were harnessed."
In 2016, Aquatera had formed an affiliation with a Japanese oceanographic survey firm, and they work together in Nagasaki.
Then I found that on June 29, this year, the GreenBiz website had posted an article about sea power, from which I quote the following:
"Orbital Marine Power is harnessing Scotland's ocean currents for sustainable power.
Orbital CEO Andrew Scott is not exaggerating when he says the world's most powerful turbine is 'like nothing the world has ever seen before.'
At just over 73 meter long — about the size of a Boeing 747 — the 680-ton superstructure has two ginormous blades that slowly churn and generate power. This floating power plant, the "O2," is estimated to generate enough energy from the fast-flowing sea currents off Scotland's isle of Orkney to provide all the power needs of 2,000 households.
Well, if they can do that in Scotland, it could be done elsewhere – perhaps all over the globe. So, there is hope after all.
---December---
December 3: World-beating Dutch getting shorter
That is the title of a recent AFP article. It quotes a study by the Dutch statistics office dated September 17. It states that the generation of Dutch people born in 2001 is shorter than the one born in 1980, the men 1 centimeter shorter on average, the women1.4 centimeter. Factors including immigration and changing diet are likely to be responsible for the change in height.
Even so, Dutch 19-year old men currently measure an average of 182.9 centimeters tall, and women 169.3 centimeters, still the world's tallest people.
The Dutch were not always so lanky. At the start of the 19th century they were small by European standards, and only started to shoot up in the 1840s, though it wasn't until the generation born in the late 1950s that the Dutch took the title.
The question of why the Dutch are so tall is a matter of speculation. A popular myth – that it's because their diet is rich in milk, cheese and meat – is discounted by most scientists. Increased prosperity as well as "natural selection" – women tend to prefer tall men – is another possible reason.
My guess is that because one third of the Netherlands lies below sea level and is protected by dikes, the Dutch have been stretching their necks and standing on their toes to keep an eye on the sea's behavior, and – in case of a break in the dikes and heavy flooding, as happened at least once, in 1953 – keeping their head above water.
Not a serious possibility, of course. Just a joke. Genetic origin is more likely.
December 5: Looking for suitable Christmas gifts?
With many people likely to spend the coming holiday season at home due to the Covid-19 effect and its Delta and Omicron variants, we have a suggestion: get hold of one or more of Brinckmann's books. Out of the seven books I've published so far, I recommend the following five, three of which – marked * – earned literary prizes.
All my books are available on Amazon websites, as well as on Barnes & Noble and Waterstones online bookstores.

The Call of Japan: A Continuing Story - 1950 to the Present Day (non-fiction 2020)
Part personal memoir, part professional flashback, part socio-cultural commentary, The Call of Japan chronicles the author's experiences during his 40 years of living in Japan, from 1950 to 1974 as a 'reluctant banker', and from 2003 to the present as a writer. The Call of Japan comments extensively on the country's economic, political and cultural realities during the crucial early years of post-war reconstruction as well as during more recent times.
From the review by Henry Hilton in JapanToday:
"'The Call of Japan' will be an eye-opener to those used to the idea that today's affluent, somewhat self-satisfied, nation somehow won its spurs as if by magic. Brinckmann's text is a reminder of the hardships that had to be endured and the skills and shortcuts with which financial and official circles drove things forward. …. In the process he looks tenderly at the cultural and social resources of his adopted country and writes lovingly of his marriage, but never forgets that there were and remain plenty of 'fundamental problems' that have yet to be properly confronted or conquered."

In the Eyes of the Son (a novel, 2015) *
Peter dreams of life with a camera, but his father doubts he has the toughness required to be a professional photographer, and pushes him instead into a more sensible profession: international banking. Twenty-five years later, dramatic events lead Peter to sacrifice his stable career and family for a photographer's life - in New York. A vicious attack, however, disrupts his first success, leaving him to wonder how he will ever reconcile with a stubborn father with whom he's never seen eye-to-eye.
From the review by Philip Philipsen for Amazon.com:
"Readers familiar with Mr Brinckmann's other writings, in particular …. his engrossing collection of short stories, The Tomb in the Kyoto Hills, will find themselves nodding more than a fair few times in recognition of the themes and overall feeling present in the book. Still, as the author insists in the preface, In the Eyes of the Son is a work of fiction and should be read as such. Whatever angle you apply, this is a very worthy read."

The Undying Day: Poems by Hans Brinckmann (poetry, 2011) *
side-by-side with Hiromi Mizoguchi's exquisite Japanese translation.
The Undying Day is a selection of poems I wrote over half a century. Their inspiration came from many different sources and were conceived in places as diverse as Kyoto, Sydney and Beverly Hills.
The Ballad of Hope Hill, which concludes the collection, was commissioned in Amsterdam in 1995 and set to music by the Argentinian composer Pablo Escande, and performed in Concert Hall Kadens, Haarlem in 2000 by Pedro Adarraga, tenor, with the composer at the piano.
From the review by Stephen Mansfield in The Japan Times:
"Consistently, Brinckmann casts himself as mediator, a conducting material recharged by the stream of time. Where some poets, even great ones, resist the vision of anything finer than a futile individual existence, Brinckmann celebrates life's brimming energies, even as they discharge into more temperate currents with the advance of age."

Showa Japan: The Post-War Golden Age and Its Troubled Legacy (non-fiction 2008)
Japan's Showa era began in 1926 when Emperor Hirohito took the throne and ended on his death in 1989. The formative age of modern Japan, it was undoubtedly the most momentous, calamitous, successful and glamorous period in Japan's recent history. Today, Showa is a beacon for nostalgia that is memorialized yearly in a national holiday. An era of growth and prosperity, it saw Japan go from an isolated, embattled nation to a peaceful country holding the exalted position of the world's second largest economy.
From the review by Hillel Wright in Metropolis Magazine:
"Brinckmann's unique perspective—not soldier, diplomat nor educator—along with his talents as storyteller and photographer, make this book a standout. I heartily recommend it."

The Tomb in the Kyoto Hills and Other Stories (Fiction, 2005) *
A collection of five stories, presented as fiction, but rooted in the author's personal exposure to the rich shadings of his adopted country, Japan. With close attention to the authentic surroundings and cultural details, each story draws the reader into an extraordinary, even mysterious experience. The author believes that these stories will not only entertain the reader, but also deepen their insight into Japanese society, and the Westerner's place in it.
From the comments by Professor Stewart Wachs, Kyoto University of Foreign Studies:
"I … want to let you know that I have read and deeply enjoyed your short story collection, The Tomb in the Kyoto Hills and Other Stories. I couldn't put it down, and devoured it all in a single day…. I found the descriptions vivid and poetic, the characters nuanced and the story-lines woven like textiles. You write splendidly."
---October---
October 15 – Long-lost manuscripts and paintings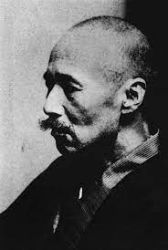 Mori Ogai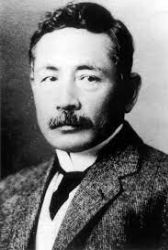 Natsume Soseki
The Yomiuri Press reported that a cache of handwritten manuscripts and correspondence from such literary Japanese giants as Mori Ogai (1862-1922) and Natsumi Soseki (1867-1916) was discovered at the offices of publishing house Shinchosha in Tokyo. The collection was found pasted on the pages of a scrapbook, probably by Shinchosha's founder, Giryo Satoh(1878-1951). Documents like these can provide researchers insights into the literary milieu of the time.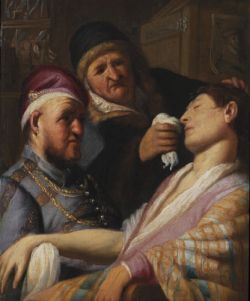 Rediscovering long-lost – or unknown – masterpieces by famous artists has happened many times, in different parts of the world. Between 2013 and 2017 a number of paintings were discovered in "people's attics and garages," because they were believed to be fake, or not recognized as works of notable artists.
One of the most surprising findings is An Unconscious Patient (Picture at left), a small painting by the famous Dutch artist Rembrandt van Rijn, painted around 1624 in his late teens as one of a series of five paintings, The Senses.
Because it was encased in a Victorian frame, had a flaking surface, and was found in a New Jersey basement, it was not believed to be authentic, and expected to sell for not more than $500 to $800 at auction. Once it was identified by Paris art dealers as an authentic Rembrandt, it sold privately to an American billionaire for a reported $3 to $4 million.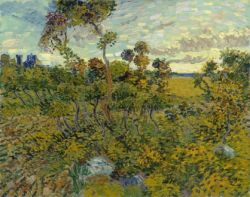 Another work of art, originally believed to be fake and relegated to the attic of the French ambassador to Sweden, turned out to be a painting by Vincent van Gogh. In an 1888 letter to his brother Theo, Vincent had described the painting in detail, leading van Gogh historians to conclude that Sunset at Montmajour had indeed been painted by Vincent. It has been on display at the Van Gogh Museum in Amsterdam since 2013.
This shocking painting by Caravaggio entitled Judith Beheading Holofernes dating from around 1602 was found in 2014 "leaning against a wall in a dark, cluttered, leaky attic" by a Toulouse auctioneer. It had been "lost" for about 400 years. It was predicted to sell at auction for at least $110 million, but it was instead again sold privately to an American billionaire for an undisclosed price.
And there are many more (re-)discoveries of paintings, writings, and other artistic works. The "past" is not quite past yet.
October 16 – The Minamata disease continues...
Back in 1963, when I was managing the Tokyo branch of the Dutch Nationale Handelsbank, a terrible disease had hit thousands of people, caused by eating fish contaminated by discharged mercury in the Minamata Bay in Kumamoto Prefecture, Kyushu, by Chisso Corporation, a manufacturer of chemicals.
The company, whose headquarters were located in the same building as my ground-floor office, steadfastly denied the causal link between the discharged mercury and the "Minamata disease." When I arrived at my office in the morning, hundreds of victims and their relatives would already be sitting on the pavement in neat rows, leaving a polite gap in front of my bank's street-level entrance, carrying placards demanding recognition of their plight and compensation for their loss of health and livelihood. But Chisso didn't admit their responsibility, which was a cause of great embarrassment among the members of the Toseikai, a kind of bosses' club of the 12-odd tenant companies in the same building, including Shell Oil. We met twice a year for drinking and eating with geisha's present, but the Minamata issue was carefully avoided.
It wasn't until years later – after over two thousand victims of the "Minamata Disease" had died and thousands more permanently affected by physical deformities, loss of vision, and other forms of incapacity – that the victims brought their case to court. Chisso finally accepted responsibility, and compensated the sufferers financially. Insanity, deformity and paralysis were among the most serious symptoms.
Why do I bring this up now? Because the Japan News newspaper devoted a whole page today (partly shown at left) to an article entitled "Minamata mission continues", illustrated with many photos of Minamata disease sufferers, some of whom are still alive. The photos were taken during the past half century by the famous American photographer Eugene Smith and a Japanese photographer, Takeshi Ishikawa (shown sorting photos), both of whom lived in Minamata for some years in the early 1970s.
To remind the general public of that terrible disease, Ishikawa is now holding an exhibition until October 25 in Tokyo of the photos he and Smith took of Minamata victims over the years.
An American movie called "MINAMATA" starring Johnny Depp as Eugene Smith was released in August this year in the U.K., and is now being shown in Japan. It is based on Eugene Smith's documentary photographs of the effects of mercury poisoning on the citizens of Minamata.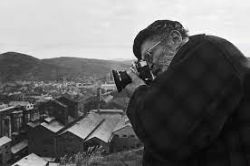 Eugene Smith takes a photo
of the Chisso Minamata Plant, 1971.
Photo by Ishikawa Takeshi
And from Nov. 5 to 25, there will be an exhibition at Fujifilm Square, Tokyo, entitled: "W. Eugene Smith: Through the Eyes of a Photojournalist – Truths Revealed in Photographs," which will also include some Minamata images. The venue is the same where IJsbrand Rogge and I – at the invitation of Fuji Film Corporation – held a month-long photo exhibition in 2008, to commemorate the 150th anniversary of the establishment of diplomatic ties between Japan and the Netherlands.
It attracted 49,000 visitors.
In Fukuoka, your Habri team's city of residence, a local bookstore has opened a special exhibition of the many books that have been published over the years on the subject of Minamata.
October 21 – Famous Conductor Bernard Haitink died today
The legendary conductor of the Amsterdam Concertgebouw Orchestra, Bernard Haitink, passed away today, aged 92. He started his career in 1954 and conducted his last concert in 2019, ending a 65-year long career as conductor, mostly with the Concertgebouw Orchestra, but often also as conductor of other famous orchestras.
He visited Japan several times with the Concertgebouw Orchestra. One special concert – which I helped organize – took place in May, 1974. It was a benefit concert at the Tokyo Festival Hall in aid of the World Wildlife Fund. My wife and I were introduced to the then-Crown Prince Akihito (now Emperor Emeritus) and Crown Princess Michiko (now Empress Emerita) because of our involvement in this special occasion.
The Amsterdam-Rotterdam Bank made available a gift to supporters of the WWF, a recording of one of the concerts conducted by Haitink – see picture. Today, I listened to this LP again, in memory of that great conductor and that unforgettable event.
---August---
August 8 – The Tokyo Olympics
Today marked the end of the 2020+ Tokyo Olympic Games, which opened on Friday, July 23.
Was it a success? That depends on one's point of view.
At around 35 degrees Celsius, the heat was sweltering and the humidity level was between 60 and 80 degrees. With the coronavirus spreading fast, the hospitals in Tokyo had already been overwhelmed, though the Olympic organisers had made room for possible Covid-9 sufferers among the athletes and their staff. On top of that, no spectators were allowed!
No wonder that in the months and weeks leading up to the opening, public demand – including on social media – to cancel the Games had been sharply rising. But the government and the IOC President Thomas Bach insisted on letting the games go ahead, given the enormous investment (between 2 and 4 trillion Yen) made in the preparation for the Olympics – including a new stadium to be used for the opening and closing ceremonies. More importantly, the expectation of the over 11,000 athletes for the Olympics and 4,000 for the Paralympics, to join the competition after a long period of training and preparation, could not be denied.
In retrospect, considering the extreme circumstances, the games can be considered relatively successful, without disaster.
The state of emergency that prevailed throughout the Olympics will continue at least until the end of August. Takahide Kiuchi, executive economist at Nomura Research Institute, projects that the loss for the hospitality and related sectors could total Yen 2.19 trillion (about US$ 20 billion).
Yet some say that the strong performance of Japanese athletes has been an undeniably positive factor, which may help post-Olympic spending in department stores and supermarkets.
These are the final medal standings of the top 10:
| | | | | | |
| --- | --- | --- | --- | --- | --- |
| Pos. | Country | Gold | Silver | Bronze | Total |
| 1 | United States | 39 | 41 | 33 | 113 |
| 2 | China | 38 | 32 | 18 | 88 |
| 3 | Japan | 27 | 14 | 17 | 58 |
| 4 | Great Britain | 22 | 21 | 22 | 65 |
| 5 | ROC | 20 | 28 | 23 | 71 |
| 6 | Australia | 17 | 7 | 22 | 46 |
| 7 | Netherlands | 10 | 12 | 14 | 36 |
| 8 | France | 10 | 12 | 11 | 33 |
| 9 | Germany | 10 | 11 | 16 | 37 |
| 10 | Italy | 10 | 10 | 20 | 40 |
The Netherlands did remarkably well, too, slightly better than France, Germany and Italy, despite its small size.
Here are some photos taken from the TV coverage of the opening and closing ceremonies:

Entry of the Dutch team

Entry of the Japanese team

Naomi Osaka, the famous tennis player, lit the Olympic Flame


The 205 participating countries and territories
(plus the Olympic Athletes from Russia) at the closing ceremony.
August 9 – Nagasaki Memorial Day
Today, the day after the closing of the Olympic Games in Tokyo, the annual Peace Ceremony was held in Nagasaki, the date the city was destroyed by the atomic bomb 76 years ago, on August 9, 1945.
---July---
July 1 – Regge Life's short film, based on 2018 Interview
Back in 2018, Regge Life, an American film maker, interviewed me in Fukuoka for a documentary on Japan he was making. It would focus on early post-war Japan, including the 1964 Tokyo Olympics, but the exact layout had not been decided.
| | |
| --- | --- |
| | Regge Life |
The interview went very well, and Regge kept me informed for a while, but it wasn't clear when the film would be completed.
Then today, unexpectedly, I received the link to his short film, partly based on the interview. Its title is MEMORIES OF THE 1964 TOKYO OLYMPICS AND BEST WISHES FOR THE 2020 TOKYO OLYMPICS. It contains many photographs taken by my friend IJsbrand (aka Michael) Rogge and me.
It is now available on YouTube: https://youtu.be/e0LMtQenctA
July 14 – Exhibition at the Netherlands Embassy
To mark the upcoming Tokyo Olympics, the Netherlands Embassy in Tokyo organised a small exhibition with memorabilia from the 1964 Olympics, including my photo of the Dutch team entering the Olympic Stadium during the opening ceremony. This is how it was displayed:
July 19 – A Genius, aged 11, wants to make the world immortal
Now here is a mind-boggling story that appeared today in the English Newspaper The Times: Laurent Simons, a Flemish boy, aged 11, with a Dutch mother, graduated this month from the University of Antwerp with a degree in quantum physics, two years after enrolling at age 9, having completed his secondary school curriculum in 18 months!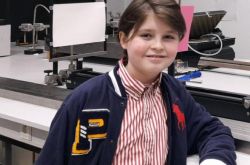 Laurent Simons
What is his scientific aim? "Immortality, that is my goal," he explained. "Not for myself, but for other people by replacing as many body parts as possible with mechanical parts. I have mapped out a path to get there." His parents are understandably struggling to keep up with his plans, but Laurent's creativity is a hit with academics.
Laurent, with an IQ of 145, has been compared with geniuses like Einstein, but his mother says that he doesn't like that kind of comparisons. "He feels that he is unique in himself, just as everyone else is unique in themselves."
When Laurent was very young, his parents worried about his mental health, as he avoided playing with other kids his age, and showed no interest in toys. In 2019, age 9, he had dropped out of Eindhoven University of Technology in the Netherlands, and soon thereafter was accepted by the University of Antwerp.
His father, Alexander, 38, said that after pandemic restrictions eased Laurent would move to the UK to devote his further studies to classical mechanics and quantum physics. He could stay with his uncle in London, until his parents joined him. His father said: "Many of Laurent's university teachers have been British, and he likes their way of thinking. But we'll have to see what is legally possible, because Laurent is a minor."
Laurent's bachelor thesis was a study of "vortice properties in Lee Huang Yang condensates."
Uhh – I think I'll leave it at this. Some kids are rather hard to understand.
---June---
June 3 – Uncertainties about the 2020+ Tokyo Olympics and Paralympics
With the novel coronavirus still not under control, several variants appearing, and foreign spectators already banned from attending the games, there is a growing demand from the Japanese public to cancel the Games. About 10,000 volunteers have already withdrawn, and many doctors are also skeptical.
The vaccination rollout started in mid-February for medical workers, from mid-April for citizens aged 65 or older. So far, only 3.6 % of the population is fully vaccinated, with 190 deaths. Vaccinations for Japanese Olympic athletes has started on the first of June. Even if the country succeeds in meeting its optimistic goal of fully vaccinating all 36 million elderly people by the end of July – already a week into the Games which will open on July 23 – about 70 percent of the population would still not be fully inoculated.
But both the Japanese government and the International Olympic Committee are determined to let the games go ahead, as cancelling them would come at enormous cost and loss of face. The construction of the new Japan National Stadium, which opened in December 2019 to serve as the venue for the opening and closing ceremonies, as well as for track and field athletics events, alone cost some Yen 157 billion (US$ 1.4 billion), and the government and the Japan Olympic Committee don't want this investment be in vain.
Earlier, on May 21, Thomas Bach, the IOC President, said that at least 75% of participating athletes who will stay in the Athletes' Village will be fully vaccinated before the Games start. Most athletes, too, appear to favor non-cancellation, given the amount of training they have already completed in preparation. But at least half of Japanese people – including medical personnel – do not want to have the Games.
The situation is high problematic. In all likelihood, the Games will go ahead.
---May---
May 17 – "Japan is becoming the ally the UK needs after Brexit"
That is the opinion of Iain Martin, writing in The Times today. He refers to the UK's formal application, on 1 February, to join the Comprehensive and Progressive Agreement for Trans-Pacific Partnership (CPTPP), a trade pact between 11 countries: Japan, Australia, Canada, New Zealand, Vietnam, Singapore, Malaysia, Brunei, Mexico, Chile and Peru.
According to Chatham House – the London-based policy institute – that was "a smart decision by the UK as it will set or renew its trade terms with 11 trading partners in just one negotiation." And, of course, it will be the first and only "European" nation to join this pact.
In Martin's view, "Japan is the frontline power in the Pacific. Located next to China, it is working with Australia, the US and Britain on improving the defence of sea routes and tracking Chinese disruption."
The CPTPP is a big agreement which came into force in 2018. With a total current population of 500 million people located in the growing and increasingly rich Asia-Pacific region, its members account for 13 per cent of global GDP, and 15 per cent of global trade.
Martin expects that liberal-democratic Japan will turn out to be Britain's key ally in the area. Not only did it sign a trade deal last year with Britain, Japan also is this year's chair of the CPTPP Joint Commission. Japan has welcomed the UK's application and intends to engage actively in the process.
May 20 – Fascinating new project: Turning trees into batteries
In June, 2015, a method for making elastic high-capacity batteries from wood pulp was unveiled by researchers in Sweden and the US. Using nanocellulose broken down from tree fibers, a team from the Swedish KTH Royal Institute of Technology and Stanford University in the U.S. produced an elastic, foam-like battery material that can withstand shock and stress.
Now Nippon Paper Industries, a Japanese paper manufacturing company, has announced that it is going to use trees to develop a successor to lithium-ion batteries for electric cars, in cooperation with Tohoku University. Their aim is "to create supercapacitors that could store and release energy with vastly improved performance, and less environmental impact, than existing batteries." This is a highly technical procedure, difficult to understand for general readers, but in the age of global warming potentially an important contributor in lowering the dangerous levels of CO2 emissions.
Read more at: https://www.gccbusinessnews.com/pathbreaking-japanese-paper-maker-to-develop-wooden-alternative-to-car-batteries/
May 31 – The Takanawa Embankment: Important Archeological Discovery
Japan's first railway service started in 1872, connecting Tokyo's Shimbashi district with Yokohama, a distance of 24 kilometres. As part of the route was over Tokyo Bay, a 2.7 km long embankment was built in what is today Tokyo's Shinagawa district. This woodblock print dated 1871 illustrates that part of the route.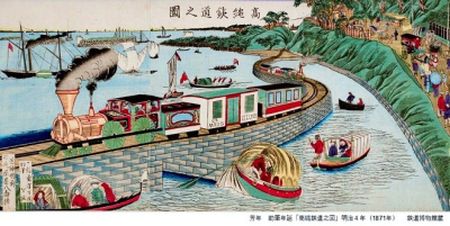 Railway line at Takanawa (1871) by Tsukioka Yoshitoshi
From around 1910, as Tokyo needed more land, the area became part of a large-scale reclamation. The embankment and surroundings were covered with soil and believed to be destroyed.
Recently, the East Japan Railway Company – known as JR East – discovered 1.3 km of the embankment (photo at left) during preliminary excavations for a construction project comprising several high-rise office-apartment-shopping complex buildings, which is currently underway in the Takanawa area of Minato Ward, Tokyo. They announced their discovery of the embankment, which soon attracted the interest of historians, archaeologists, architects and train spotters.
A movement started to have the embankment preserved as an important historic area, as it was the beginning of Japan's world-famous railway culture. It was literally the first major project in the modernisation of Japan, known as the "Bun'mei-kaika (opening of civilisation)". As the first railway in East Asia constructed not by colonial powers but by a nation-state, it was also of immense significance from a world-historical perspective.
JR East is reluctant to abandon their building project, but indicated that they are willing to preserve – and relocate – a small part of the embankment. In response, the Japanese Archaeological Association ("JAA") submitted a letter of request to JR East and other organisations and public bodies including the government of Japan and other relevant municipal governments to preserve the entire stretch of the excavated embankment, as the partial preservation and relocation would fundamentally undermine its significance and historical value. So far, JR East does not appear to have changed their policy.
But now the movement is garnering increasing international support, and ICOMOS Japan – a branch of the International Council on Monuments and Sites (ICOMOS), linked to UNESCO – wants the full 1300-meter excavated embankment to be preserved as a World Heritage Site. The pressure on JR East is mounting as the JAA and ICOMOS Japan want to preserve this "irreplaceable historic treasure for future generations."
---April---
April 4 – Travel ban between Japan and the EU extended
Due to the spread of new, more contagious strains of the novel coronavirus in many countries, Japan is closing its borders until further notice to all foreign tourists. Resident foreign nationals and Japanese nationals are allowed to (re-)enter, but must test for the virus at least 72 hours before their departure to Japan and submit documentation proving that they tested negative for the virus. Additionally, they are asked to self-isolate at home or at a designated place for two weeks upon arrival, and they are banned from using public transportation during their quarantine period.
Travelers from Japan to the EU including the Netherlands have been banned from entry since the end of February. This is due to the strong uptick in Corona-19 cases in Japan, mostly because of new variants.
The number of vaccinated individuals in Japan is still extremely low. Only 0.87% of the population has received at least a single dose as of April 3. In the U.S. that percentage is 48.35% and in the Netherlands 13.88%. In Japan, even those over 65 have not received a jab yet. The plan is to have them vaccinated starting mid-April, a procedure that will take an estimated 3 months.
April 5 – The coming Tokyo Olympics' torch relay
On March 25, the Tokyo Olympic organizers unveiled the map route for the torch relay that began on that day.
The 121-day relay started in the tsunami-affected prefecture of Fukushima, after the Olympic flame arrived from its ceremonial lighting in Olympia, Greece.
The relay concludes at the Opening Ceremony on July 23, after visiting all 47 prefectures of Japan.
Since then, Osaka has moved its participation in the relay to a park without spectators, as it wants to avoid the Covid-19 health risks associated with the large crowds that normally line the routes of the torch bearers.
Because of the ongoing novel coronavirus pandemic, there has been growing opposition in Japan to the holding of this year's "2020 Olympics and Paralympics", which have already been postponed by one year for the same reason. The latest plan is to let the event go ahead, but with a limited number of only domestic spectators. Spectators from abroad will be banned, and they will receive a refund for tickets already purchased.
All this is a far cry from the first Japan-based Olympics in 1964, which went ahead untrammeled and was a huge success. I, your Habri author Hans Brinckmann, attended its festive opening at the National Stadium in Tokyo, which I described in my book The Call of Japan as "the symbolic end of Japan's post-war reconstruction period and its return to the ranks of leading, mature, respected nations."
---March---
March 21 – China's provocative actions near Okinawa increasing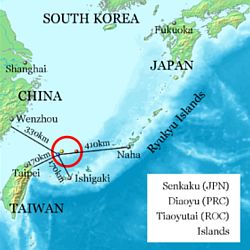 The red circle denotes
the Senkaku Islands
There have been an increasing number of incursions by Chinese Coast Guard vessels around a group of uninhabited islands, the Senkakus, in the East China Sea, claimed by China and Taiwan and Japan but administered by Japan as part of its Okinawa Prefecture. According to a website of The People's Republic of China, China has had jurisdiction over the archipelago from the early 15th century, while Japan has had actual ownership of the islands since 1895.
As they are located in an important sea lane used heavily by all three countries as well as by the ships of other trading nations, China's takeover of the Senkakus would also mean their virtual control of that shipping route.
To prevent that from happening, Japan and the U.S. are contemplating joint military exercises in the waters off the Senkakus. This would certainly worsen an already tense relationship between China and the U.S. as well as between China and Japan, the deterioration of which China recently blamed on Japan's position as a "vassal" of the United States. Though relations between the two countries have always been troubled, this insult has caused Japan to lodge a protest with China through diplomatic channels.
Another front on which the U.S. and Japan see eye-to-eye is their objection to China's suppression of Hong Kong's democratic freedoms and its claim of Taiwan as a "historic" part of its territory.
We can only hope that tension will not explode into war, and relative calm will return.
March 31 - Asian Americans in the US under attack
Multiple hate crimes against Asian Americans were reported in the U.S. over the past year, mainly against women. Among the worst was the killing on March 16 of eight people in massage parlors in Atlanta, Georgia, six of them women of Asian descent. The shooter was a white male.
Anti-Asian hate incidents such as shunning, slurs and physical attacks are not unusual in the U.S. The "STOP AAPI Hate" non-profit registers thousands of cases against Asian Americans & Pacific Islanders (AAPI) every year. But there has been an upsurge since the start of the Covid-19 pandemic. The recent uptick in crimes is linked to the political rhetoric by Donald Trump, who has used terms such as "China virus" and "kung flu." As the average American finds it hard to distinguish Chinese Americans from those whose origin is from other East Asian countries such as Japan, Vietnam, South Korea and the Philippines, most Asian-Americans have suffered from this totally unwarranted blame game.
Japanese-Americans have also suffered from this wave of racial bias, though to a much lesser extent than Chinese-Americans. According to a March 28 report by the Japanese national news agency NHK about 40 percent of the victims over the past year were Chinese-Americans. Remarkably, "only" over six percent were Japanese-Americans or Japanese residents of the United States. Perhaps it is at least in part because the Chinese-American population is more than three times that of Japanese-Americans.
Racial discrimination is part of life in most countries. Japan, too, has its own kind of xenophobia, though it has decreased over the years and, to the extent it still exists, is more toward other resident Korean and Chinese minorities and black people than against white citizens from the U.S. or Europe.
During my long residence in Japan – over 40 years since 1950, divided over two periods – I have seldom experienced discrimination. On the contrary, with very few exceptions, I've always felt very welcome, wherever I go.
---February---
February 6 - The Corona Pandemic Rages On
No relief in sight. In Japan - among the least affected countries until recently - a state of emergency was declared in early January by the central government for Tokyo and three adjoining prefectures. On January 13, seven more prefectures were added, including Fukuoka, where your Habri team lives.
The restrictions include asking eating establishments to close by 8 p.m., and stop serving alcoholic drinks by 7 p.m. Businesses are requested to use remote working to help cut the number of commuters on public transport by 70%, and people in general are urged to refrain from nonessential outings at all times, especially after 8 p.m. As the government does not have the legal power to enforce these restrictions, no official curfew was declared as in the Netherlands, which caused serious riots, mostly by young people fed up with any regulations aimed at curbing their freedom of movement.
Although corona infection rates and deaths in Japan are very low compared to most other countries, recently there has been a worrisome acceleration in the number of deaths, which has resulted in the EU re-imposing on January 29 the entry ban on travelers from Japan, by removing Japan from the list of seven countries that had been exempt from its general world-wide entry ban. Even so, the Covid-19 death toll in Japan as a percentage of the population is still a fraction of those of other countries:
USA 0.001395UK 0.000871Netherlands 0.000837Japan 0.000025
Number of deaths
Rate of increase
May 30 to Feb 5
May 30:
Oct 30:
Feb 5:
USA
104,128
228,701
461,765
4.43 times
UK
38,161
45,955
112,092
2.93 times
Netherlands
5,931
7,258
14,355
2.42 times
Japan
882
1,748
6,373
7.22 times
The numbers below speak for themselves.
Total Number of confirmed cases:
May 30:
Oct 30:
Feb 5:
USA
1,781,644
9,023,894
26,949,087
UK
271,222
965,340
3,929,835
Netherlands
46,126
330,255
1,001,826
Japan
16,759
99,674
404,128
Number of cases per 1 mln people:
USA
5,406
27,382
81,774
UK
4,082
14,530
59,153
Netherlands
2,643
18,995
57,408
Japan
133
791
3,209
The following link takes you to a Covid 19 world map, updated daily: https://news.google.com/covid19/map?hl=en-US&gl=US&ceid=US:en
Another somber note: The health ministry disclosed last week that 20,919 people took their own lives in 2020, a 3.7% increase over 2019. The increase is the first annual rise in over a decade of steady decline. Experts believe this latest increase is the result of the coronavirus triggering a kind of 'suicide pandemic' especially among women and children, who find it hard to cope with economic hardship and loneliness.
---January---
January 2 - World's oldest person marks 118th birthday - in Fukuoka!
FUKUOKA - Kane Tanaka, the world's oldest person who was born in the same year as the Wright brothers' first powered flight, celebrated her 118th birthday in southwestern Japan on Saturday.
Tanaka, born on Jan. 2, 1903, was recognized by Guinness World Records as the world's oldest living person in March 2019 at the age of 116. Those born in the same year - but all passed away long ago - include George Orwell, Bing Crosby, and Yasujiro Ozu, famed Japanese movie director.
January 14 - Famed writer Kazutoshi Hando dies
Today the Japan News daily dedicated an article to Kazutoshi Hando, a well-known non-fiction writer specializing on Japan's Showa era (1926-1989), who died on January 12. In 2006, he received an award for his two-volume book about Showa, which became a best seller. And in 2015, he was awarded the prestigious Kikuchi Kan Prize for his efforts to "seek the truth on the war" and "enlighten readers with a number of excellent books about history."
Why do we focus on Hando's work and his passing at the age of 90? Because in 2009, when Random House Kodansha published Hiromi's Japanese translation of Hans' book, Showa Japan - The Post-War Golden Age and its Troubled Legacy, Hando provided an endorsement on its jacket with these words - translated from its Japanese original:
"A unique view of Showa which has escaped the attention of most Japanese. Brinckmann - who shares the post-war experiences through the eyes of a European - sounds a warning about looking back on the Showa era with nostalgia."
We remember him gratefully for his support.
January 21 - The digital age has arrived - never mind the dangers and inconvenience
Education Rules
On December 21 it was reported by Nikkei News that the Japanese government will "remove the limit on the amount of time that children can spend looking at screens in class from April as it aims to introduce digital textbooks to all compulsory education schools by fiscal 2025." And this despite the fact that under current rules the time that digital textbooks can be used is limited to maximum half of classroom times, due to "worries that children's eyes and health would be adversely affected by spending too much time looking at screens." An earlier editorial in The Japan News of October 27 emphasized the "importance of reading books in print needs to be recognized anew," adding that "digital devices are not suitable for reading carefully and thinking deeply."
Besides that, as can be observed every day everywhere, mobile phone addiction and nomophobia is already widespread, even among children. Some people even watching their mobile screen while driving a car or riding a bicycle...
The reason for the proposed lifting of the limits is that the government, led by Prime Minister Yoshihide Suga, is planning to have all textbooks digitized at enormous cost, - surely a roadmap for completing the digital transformation.
The opposition to this new policy is widespread. It is not clear why school textbooks are being digitized. There is fear that "the basics of education - reading books, writing sentences and learning to think - will be neglected." For what purpose?
International Courier Service
Today we visited our local post office to send a small package to the Netherlands by air. We had filled out the required form, and expected to be out of there within minutes. Not so fast. It took almost an hour. Reason: from 1st January, handwritten forms are no longer accepted, due to new international rules requiring EAD (Electronic Advance Data). It is therefore now obligatory to input the address and other details onto your mobile phone - assuming you have one - which is then connected to some small machine to produce a printed form showing all the details in tiny letters. Even the postal clerk - though very kind - had difficulty helping us, as this system was new to her, too.
According to data from the relevant ministry, about 10 million elderly people need assistance using digital devices. From April, the government will hold seminars to provide that help, to eliminate "the digital divide."
I'm longing for those bygone times, before the dehumanization - I mean, digitization - of our daily life.