---March---
March 10: Is Renewable Energy gaining ground?
Given that Japan hosted the 1997 climate conference that adopted the Kyoto Protocol, it could be expected to continue championing the cause of fighting climate change. But developments over the past twenty years have shown otherwise. An advisory panel on climate change recently presented a "strongly-worded assessment" to Foreign Minister Taro Kono, in which it advocated the need to lower and eventually phase out Japan's reliance on coal – now at around 26% of total energy supply, and increasing.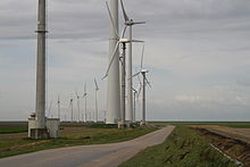 Wind turbines in Holland
It is true that renewables have also seen an uptick in recent years, representing about 15% of total energy production in 2016, and growing slowly. But the Abe government's policy favoring restarting nuclear plants that were shut down after the 2011 Fukushima nuclear disaster has limited the sector's enthusiasm for renewables. Given that renewables already account for 24% of the global energy mix, Kono called "these circumstances lamentable" and pledged to embrace "new ways of thinking." This may place him on a collision course with the powerful nuclear lobby.
Sadly, Holland hasn't done any better. Based on current projections, green schemes will produce 12.4 percent of the Dutch energy supply by 2020, below a 14-percent target agreed with the European Union. It is working hard to increase renewable energy to around 24% by 2030, still short of the 2015 Paris Accord target of 26%.
Both Japan and Holland are rich in potential sources of renewable energy: wind, sun, biomass, hydro and – in the case of Japan – geothermal. In view of the urgent need to counter climate change, we expect both countries to actively support promoting green energy!
March 28: It's cherry blossom season again!
That hanami (cherry blossom viewing) in Japan is a major attraction for locals and tourists alike hardly needs to be emphasized. The top page of this Habri edition already made that colourfully clear.
But what is perhaps less known is the extent to which the hanami season influences waiting times at airports' immigration controls and traffic conditions in areas famed for cherry blossoms. Tokyo's Narita airport reports hour-long lines at border control, and Fukuoka is being plagued by serious traffic jams near its famous blossom spots.
It's not only the influx of cherry-bound tourists, though, that causes the long lines at airports. It's also the arrival of foreign students in time for the start of the new school season that adds to the congestion.
To reduce the queues, Narita will be introducing machines that will scan the faces of Japanese arrivals and collate the scans with their passports. This will speed up the process and open up more booths for foreign visitors and thus accelerate the overall procedure.
International arrivals and departures at Narita hit an all-time high in 2017 with 197,458 flights. The number of foreign travellers who entered Japan through the airport reached 15,514,000, also a new high.
---April---
April 2: Netherlands' Agricultural exports 24x Japan's!
Even though it is well-known that the Netherlands has long been a thriving exporter of cheese and tulips, it is perhaps less known that this small country is also a leading exporter of many other agricultural items such as tomatoes, sweet peppers, cucumbers, meat and dairy products, including cheese.
With a land area of 33,900 km2, its size is only 9% of Japan's 364,500 km2, and its population of 17 million a mere 13.4% of Japan's 127 million. Yet its total agricultural exports in 2017 amounted to a staggering 91.7 billion Euro, the equivalent of ¥12 trillion, or about 24 times Japan's agriculture exports of ¥497 billion in the same year.
A big factor in Holland's vastly larger agricultural production is, of course, the "flatness" of the country. Land suitable for agriculture in the Netherlands covers about 55% of its total land area, with 31% of the land area actually being used for growing crops. By comparison, only about 12% of Japan - 73% of which consists of mountains – is arable. Holland has only one small mountain, Vaalserberg, 322 meter high, which we generously share with Germany and Belgium, as it is located at the very point where the three countries come together.
When fishery and forestry products are added, total Japanese agriculture, forestry & fisheries exports came to ¥807 billion in 2017, still well short of the ¥1 trillion target set by the Japanese government for 2019.
Given Holland's fame as the country of tulips, it will come as no surprise that exports of plants, flowers and bulbs are an important element in the country's export trade. Not only that, at 6 billion Euro in 2017, it represents 44% of total world exports of such horticultural products, by far the world's largest!
The only aberration in Holland's horticultural history occurred in the early 17th century, when speculation in tulip bulbs led to the famous tulip mania. At the height of the craze, the bulb of the Semper Augustus tulip shown here - the most expensive bulb at the time - sold for 2500 florins, an amount with a purchasing power of 64,500 euro today, or ¥8,500,000. After the collapse of the mania, the Netherlands never repeated the folly. Holland's flat land has, it seems, eventually produced level-headed people.
April 3: Peace on the Korean Peninsula in sight?
Unexpected developments in the stand-off between North Korea and the United States since the February PyeongChang winter Olympics in South Korea have significantly eased the fear of war on the peninsula, a scenario that would have had disastrous consequences, also for Japan. The peace initiative by South Korea's President Moon, and President Trump's willingness to meet the North's leader Kim Jung Un in May, have opened the door to a possible rapprochement between the countries concerned.
But it's too early to celebrate. On the contrary: the fear of conflict has once again reared its ugly head. The recent appointment of John Bolton – a notorious hawk known for his bellicose and gruff nature – as Trump's national security adviser has injected a new element of uncertainty into the already chaotic Trump White House. Bolton is known for "liking" military conflict, and for not believing in the possibility of a peaceful solution in the North Korean crisis. He is reported to view diplomacy as capitulation.
We can only hope that Trump will stick to his tentative peace agenda and resist any attempt by Bolton to make him change course.
---February---
February 12: Opening of the PyeongChang 2018 Winter Olympics - and the ongoing fear of another Korean War...
Two days ago, the 2018 Winter Olympics opened in PyeongChang, a small town in South Korea, about 450 km from where your Habri team lives, in Fukuoka. The opening ceremony was, as expected, a grand spectacle, lasting over 2 hours, undoubtedly watched by millions around the world.
There is much controversy among many South Koreans over their President's decision to allow the North and South's participating athletes to enter the stadium during the opening ceremony as one unified team, under the Korean unification flag, which depicts the entire Korean Peninsula in blue against a white backdrop. What's more, he also agreed to let the ice hockey teams of North and South compete as one team. The attendance of Kim Jung Un's sister at the ceremony - apparently ignored by US Vice President Mike Pence, who also attended - added further fuel to the controversial arrangements, seen by some as a first step toward a possible thaw in North-South relations (even eventual reunification?), but by others as South Korea's President Moon toadying to his despicable northern colleague.
Today there was a whiff of good news: on his flight back to Washington, Pence indicated that the U.S. government is willing to have direct talks with the North Korean regime "without preconditions."
This doesn't mean that the possibility of another war on the Korean peninsula is now off the table. Pence made it clear that the U.S. and its allies will not stop imposing escalating sanctions on the Kim Jong Un regime until it takes clear steps toward denuclearisation, which Un has repeatedly said is a no-no. But at least there is now an opening for negotiation.
For us here in Fukuoka, war in Korea is an unthinkable scenario. We're only 214 km from Korea's second largest city, Busan - 3 hours by ferry, or less than an hour by air. War in Korea would directly involve the U.S. and also almost certainly Japan - America's closest ally in the region.
We can only hope that sanity will prevail in the end, and that the U.S. and its allies will accept the reality of North Korea as a nuclear power, perhaps with certain restrictions on further development of its arsenal.
---January---
January 16: Japan Netherlands Society Reception - and the History of JNS In Tokyo and Kansai
Your Habri team attended the traditional New Year's party of the Japan-Netherlands Society (JNS) in the Gakushi Kaikan in Tokyo, which as usual was chaired by the Society's President since 2005, Mr. Shigetaka Komori, the CEO of Fuji Film Co. Ltd.
With a current membership of 42 corporate and 286 individual/family members, the Society continues to be an important platform for Japanese-Dutch interaction in terms of both cultural and business relations.
The JNS was founded in 1912, with Count Shigenobu Okuma as its first President. Okuma was born in Saga, Kyushu, in 1838, and at age 15 joined a Dutch studies school. He travelled to Nagasaki where he met Guido Verbeek, a Dutch scholar and missionary, who was to become an important adviser on education to the Meiji government.
In 1882 Okuma founded the Tokyo Semmon Gakko, which later was to become Waseda University, one of Japan's leading universities. In 1889, a year after he was appointed Foreign Minister, he was attacked by an anti-westernisation nationalist with a bomb that blew off his right leg. He resigned after that, but returned to politics in 1896, again as Foreign Minister, and in 1898 was appointed Prime Minister. In 1907, he left politics to become President of Waseda University. Throughout his life, his interest in all things Dutch never wavered, as evidenced by his founding of the JNS in 1912.
In 1914, the JNS published a book entitled "The Netherlands and Japan" with a foreword by Okuma.
After a shutdown during the Second World War, the JNS was re-established in 1954, and today is as active as ever.
The Japan-Netherlands Society of the Kansai was founded in 1959, with Mr. Konosuke Matsushita, the founder of the company now known as Panasonic, as its first President. He remained in that function for 30 years until his death in 1989. I first met Mr. Matsushita in Osaka in 1960, while I was working as Sub-Manager of the Nationale Handelsbank's branch there.
In January 1967, I was among a small number of guests at the Tokyo home of Jan van Gemert, the Japan representative of Philips, the Dutch company with which Panasonic had formed a joint venture in 1952. The guest of honour there was Mr. Matsushita. What happened at that memorable evening is the subject of an essay by Hans Brinckmann entitled "His Hidden Acting Talent: A Memorable Evening with Konosuke Matsushita, the founder of Panasonic, in 1967"
It was first published in Hiromi Mizoguchi's Japanese translation in the January 2015 issue of Atlas magazine. The English original appeared in the January 2018 issue of the No.1 Shimbun, the magazine of the Foreign Correspondents Club of Japan.
To see the article, click here