---January---
January 25, 2023: The Abacus is back!
During my many years with the Japan branches of the Dutch Nationale Handelsbank in the 1950s and 1960s, there was one person among our Japanese staff who stood out: Iwaichi Waimatsu. He was the head of the export documents department, but he gained more renown for his habit of re-checking every calculation, already completed by others with an electronic calculator, with his personal abacus (soroban in Japanese) – a simple wooden instrument.


My Soroban
Even some of our Japanese staff made fun of their senior colleague still using this ancient instrument, instead of much faster - and what they believed – more reliable electric calculators.
Well, the abacus is back! In an article in the English-language newspaper The Japan News it was reported that the abacus is considered a very good way of stimulating the brain for both learning and work, reason why there are now hundreds of schools around Japan specializing in teaching the use of abacus.
The abacus is said to have originated in the Mesopotamian civilization. It was introduced from the West via the Silk Road to China, where the prototype of today's abacus was created – which consists of rows of movable beads sliding on rods. The abacus was introduced to Japan in the 16th century. Learning to use it became a required subject at elementary schools in 1935. Today, it is still taught in 3rd and 4th grade arithmetic classes at elementary schools.
According to the national association for abacus education, the abacus is taught in more than 100 countries around the world. The world's largest operator of abacus schools, UCMAS, is headquartered in Malaysia, and boasts over 1 million students in the United States, Europe and elsewhere.
---May---
May 10 to 20: Visiting Amsterdam
After at least 4 years, your Habri team finally got to visit Holland again – to its famous capital, Amsterdam. We stayed at the Amsterdam branch of Hotel Okura, not far from the city's center, famous for its circle of 17th century canals and their "grachtenhuizen" – canal houses.
When I (Brinckmann) was 13 years old, in September 1945 – right after the end of WW2 in May 1945, my family and I moved from Wassenaar, a small town near The Hague, to Amstelkade 143 in Amsterdam-Zuid (south). It was the very day that every Dutch person was equally rich or poor, with only 10 Dutch guilders. It was called "het tientje van Lieftinck" named after the Minister of Finance, Pieter Lieftinck. His purpose was to clear the nation of all money that had been acquired during the war unlawfully. Each citizen had to prove that their money (cash and bank account) had been earned lawfully. If so, the temporary restriction on their monetary possession was lifted.
Well, that row-house located on the Amstelkade number 143 could be seen from the windows of Hotel Okura. It looked exactly the same as in 1945, 78 years ago, as did much of Central Amsterdam.
We also met several members of my (Brinckmann's) family, including my sister Sonja – four years my junior - and her two children, Edo and Anouk, and their spouses.
My old friends IJsbrand (aka Michael) Rogge and Hans van Rossum, and his daughter Ruth. A Dutch friend, Arturo Zoller, took us with his car on a round trip of the center of Amsterdam, so we could see for ourselves.
It was altogether a memorable trip, well worth the high cost.
---June---
June 9: The harm the constant use of social media does to youngsters
According to the Washington Post, the U.S. is experiencing a crisis in youth mental health, due to overuse of smartphones which – in the past decade or so – have practically became extensions of people's physical bodies. Today, in the U.S., 95% of teenagers use social media, and two-thirds daily. One in 7 kids spends more than 7 hours a day on social media.
In 2021, 42% of high school students reported persistent feelings of sadness and hopelessness. Some 18% said they made a suicide plan.
In Japan, too, there is clearly a serious overuse of smartphones. You can see youngsters constantly checking their smartphones, even while riding a bike, or in the company of others.
June 11: The importance of the tea ceremony
Today's issue of The Japan News reported that a 100-year old Japanese tea master, Sen Genshitsu, performed a tea ceremony in Sydney on June 9, stressing that feeling humble with a cup of (Japanese) tea is a step toward world peace.
"Think of a bowl of [Japanese] green matcha tea as the earth," the former Grand Master of the Urasenke tea school told nearly 200 people from Australia and neighboring countries.
"If everyone felt humble, there would be no conflict," he said.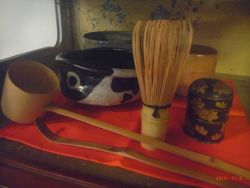 This is my late wife's tea ceremony set
After making tea in front of the audience, the kimono-clad master explained the skills of the art of tea ceremony, handed down from 16th century master Sen no Rikyu, and related utensils with enthusiasm that showed no trace of old age.
On the secret of his longevity, Sen Genshitsu said he has taken tea since he was in his mother's body. "The most important thing is your attitude when facing tea."
He said that he received from an acquaintance a few days ago a video of a tea ceremony in a teahouse set up in Ukraine.
"There was peace there," he said. "I felt that this makes you forget about the war. Tears came to my eyes."
This is one example of peace and non-violence being an essential part of Japanese life.
June 21: Attending the Gion Festival with premium seats is costly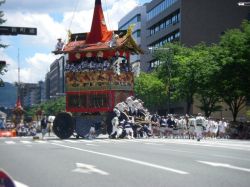 Known as the "yamahoko junko float"
this is one of many parts
of the Kyoto Gion Festival.
The upcoming annual Gion Festival in Kyoto will be held on July 17. The premium seats with "special benefits" will cost Yen 400,000 (EU 3,925 or US$ 2,777). The benefits include seats in traditional Japanese style with mats, cushions and floor chairs. Drinks and a Kyoto-style meal will be served.
The launch of the premium seats has been designated by the Japan Tourism Association and the Kyoto City Tourism Association as a way to bring back foreign tourists. But will there be enough foreign tourists who will pay for these "premium seats"?
---July---
July 3: King of the Netherlands apologizes for Dutch involvement in slavery
The Japan News, an English-language newspaper, reported today that on July 1, King Willem-Alexander of the Netherlands apologized for his country's active involvement in slavery in the years when the Netherlands had several colonies, from the 17th century onward. Slavery was abolished on July 1, 1863 in Suriname and in the Dutch colonies in the Caribbean, but most of the enslaved laborers were forced to continue working on plantations for another decade.
In his emotional address, the King said: "Today, I stand before you, as your king and as a member of the government, I make apology myself. And I feel the weight of the words in my heart and my soul.... Today, on this day of remembrance, I ask forgiveness for the clear failure to act in the face of this crime against humanity."
The King's voice appeared to break with emotion as he completed his speech before laying a wreath at the country's national slavery monument.
July 19 to 22: Our visit to Tokyo
The main reason for our 4-day trip to Tokyo was the farewell lecture by Ambassador Peter v/d Vliet, whose 4-year tenure as the Netherlands ambassador to Japan will be ending shortly.
The lecture – which was held at the ambassador's residence – was followed by a reception, which provided a good opportunity to mingle with other guests.
Here are a few photos we took:
We stayed at the nearby high-rise Hotel Okura. From the windows on our floor we could see the center of Tokyo, which looked vastly different from the Tokyo center as I remember it when I (Brinckmann) lived there in the 1960s and 1970s, when skyscrapers were still all but unknown.